Improvements made to Forty Mile Park boat launch
Posted on August 22, 2017 by 40 Mile Commentator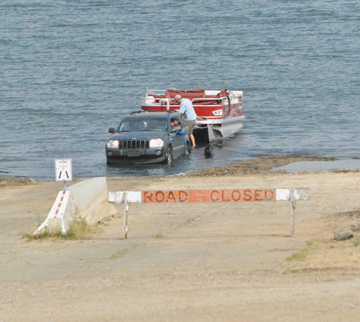 Photo by Jamie Rieger- Boaters to Forty Mile Park will be seeing huge improvements at the boat launch since repairs have been done while the water levels are low.
By Jamie Rieger
Management at Forty Mile Park took full advantage of low water levels on the reservoir to make some much-needed repairs to the heavily used boat launch.
Manager Darrell Van Arragon said that over time mud had gotten beneath the cement of the boat launch, causing it to lift.
"We have three different lanes and in some places, the cement blocks were over a foot higher than other places," said Van Arragon. "Now that the levels are low, this is the perfect time to make these repairs."
Workers had to bull out the 8" X 1" cement blocks to make the adjustments, the first time repairs were needed to the boat launch.
"Several years ago, they added onto the launch, but this is the first time any repair work has been done," he said.
The decision to do the work was decided at the last park meeting.
"Something had to be done and the decision to do the work had to be made," said Van Arragon, who added that he was meeting with contractors late last week to look at adding 30-40 loads of sand to add to the beach area.
"When the water levels have dropped like they have, this is the time to do it," he said.