Jamboree goers peddle for bike safety
Posted on August 29, 2017 by 40 Mile Commentator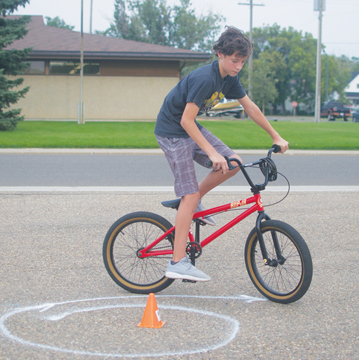 Photo by Justin Seward- Chase Madson focuses in on not putting his foot down during the gymkhana obstacle course at the Redcliff Bicycle Jamboree on Aug. 24.
By Justin Seward
Over a dozen young cyclists between the ages of three and 14 attended the first annual Redcliff Bicycle Jamboree at the town's arena parking lot on Aug. 24 to learn the basics of bike safety through a gymkhana course.
Jamboree organizer Gerard Klotz thought of the event after attending a town council meeting recently where he heard from Coun. Dwight Kilpatrick that an eight-year-old girl had been hit on her bicycle and was fortunate that her helmet wedged under the wheels of the vehicle and prevented her from being ran over.
"The bicycle jamboree is about kids riding safely on safe bicycles and wearing the proper head gear ," said Klotz.
"I think bicycles are becoming ever more popular, particularly because of the green motive of transportation. It's the only motive of transportation available for children under the age of 16 because they don't have a driver license."
The gymkhana course was designed to have the children show control of their bicycles at slow speeds.
"That way they have to make tight turns, trying to go slow as they possibly can and navigate the course in the slowest possible time," said Klotz.
" A lot of people think that to ride a bicycle properly that you have to peddle but it turns out the gyroscopic effect of the wheels doesn't have a big of impact on bicycle as you might think. There are bicycles that have been designed to be impossible ride and it turns out that we humans because of our balance is controlled by our inner ear are really good at balancing bicycles."
The kids also learned how to maintain their bikes with Medicine Hat Sport Check head technician Paul Wright and learned bike safety on the road from the Redcliff RCMP.