Preserving history at Walsh area cemetery
Posted on August 29, 2017 by 40 Mile Commentator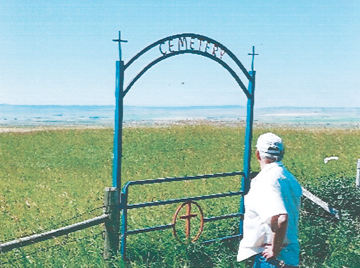 Photo submitted by Barry Meier- Barry Meier looks into the Newheim Muller cemetery where he has family members buried. Meier is part of a group looking to install a plaque and do an improvement project at the site.
By Jamie Rieger
Some family members have got together to work on a cemetery project south of Walsh, and hope others who have loved ones buried there will contribute.
Barry Meier, who now resides in Bow Island, grew up in the Walsh area, and has been working on having a plaque put up at the Newheim/Muller Cemetery, located in the Muller District along the Meridian Road, 20.3 kilometres south of Walsh.
"I left the Walsh area in 1974, but this is still my heritage," said Barry Meier, who has land records and added that the original land record was wrong for the location of the cemetery.
The owners of the land where the cemetery sits are planing on putting up a new fence, while Meier and others are hoping to raise enough money for a plaque listing the names of the people from the 27 gravesites.
"We believe this would be a great, long-awaited monument to our relatives as there are only three headstones or markers left standing," he said.
According to the Saskatchewan Cemeteries Project, Evangelical Lutheran Cemetery, Newheim district, the following people were buried there:
Otto Ehret
Hertha Ehret (nee Beierbach)
Emilie Flemmer
Frieda Flemmer
Hedwig Herrmann
Anton Hoffman
Elizabeth Hoffman
Emanuel Hoffman
Maria Hoffman
Peter Hoffman
Walter David Hoffman
Theodore Huebner
August Jans Sr.
Christian Jans Sr.
Katharine Jans (nee Sackman)
Natadile Jans
Friederich Kowalewski
Emanuel Meier
Emil Meier
Gottfried Meier
Johann Meier
Paul Meier
Peter Paul
Clara Alma Schlaht
Herbert Schulz
Emanuel Friedrich Stuber
Besides a plaque, they are also hoping to do a clean-up and improvement project at the cemetery.
Anybody wanting to contribute or learn more about the Newheim Muller Cemetery project, can contact Meier at 403-545-6004 or Tom Flanagan at 306-662-2272.