Roy to seek election for Schuler/Hilda area
Posted on August 29, 2017 by 40 Mile Commentator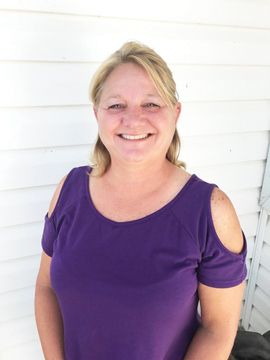 SUBMITTED PHOTO Shirley Roy is running for election in Ward 1 Hilda/ Schuler against Coun. Art Squire.
By Justin Seward
Shirley Roy has thrown her hat into the ring to run for the Ward 1 (Hilda/Schuler) chair on Cypress County council against Art Squire in this fall's municipal election.
Roy has lived in the Schuler area her whole life and comes from a ranching background, while she still owns some farmland in the area.
She is also a volunteer firefighter and up until recently a member of the Schuler Curling Rink board before handing the reigns down recently to someone else.
If she were to be elected, it would be a new opportunity for her to keep busy and push for a new Schuler Hall on council and get the word out there to gain new residents in the hamlet.
"It would be a great deal because there a lot of people saying that we could use the new school as a hall which literally you can't because you're not allowed alcoholic beverages in the school ," said Roy.
"That probably would be one of my things, why we need a new hall plus it's getting old and needs a lot of upgrades."
There is the chance that she might be the only women on council, however, she feels it will not be an issue getting a long with fellow male councillors.
"I've never thought of it as being the only woman on council," said Roy.
"I'm hoping to bring quite a bigger voice, maybe a woman's point of view instead of a man's point of view."
She has seen the amount of the money that the ratepayers are paying in taxes and her focus would be to shift the tax dollars into upgrading more roads and installing culverts.
Roy was employed with Cypress County in two different capacities including the general storage area and a flagger for the paving department.