Cooper remembered for her passion for youth, education, and FNMI culture
Posted on September 5, 2017 by 40 Mile Commentator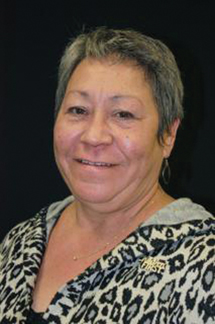 Submitted Photo- The local education community lost one of its greatest advocates and supporters when PRSD trustee, Kathy Cooper passed away on Aug. 29.
By Jamie Rieger
The community lost one of its greatest advocates for youth, education, and family when Kathy Cooper passed away on Aug. 29 at the age of 62, following a courageous battle with cancer.
Since 2004, Cooper served as trustee for Prairie Rose School Division Ward 6 – Foremost/Manyberries/Etzikom and was active in attending council meetings, school functions, and advocating for rural schools.
Foremost School spokesperson, Paul Leighton said his former colleague and friend will be deeply missed.
"It's a great loss to our community. She had a passion for youth and was a great advocate for kids and she really worked on keeping the FNMI (First Nations Metis Inuit) culture alive," said Leighton. "Up until her illness, she was active in coming to our school council meetings and would work with you in helping find solutions. a trustee, she was very interested in what was going on in the schools. To Kathy, one size does not fit all. She was a person who would listen and help find solutions."
Cooper was also remembered for wanting to keep the rural schools open and when one would be considered for closure, she would always want all other options looked at first.
"She was a big advocate for small schools and whenever there would be a school closure, she never wanted to go down that road," he said.
Letighton said that before Cooper became a trustee for the Prairie Rose School Division, she was his education assistant for Math classes at Foremost School and offered Art classes to the students.
PRSD sent out their condolences after learning of her passing last week, remembering her for her years of dedicated passion to public education.
"I have had the privilege of working with Kathy for many years," says former Superintendent Brian Andjelic. "During that time I got to know her as a colleague and a friend. Kathy was deeply connected to her Métis culture and was extremely artistic. Christmas cards from her were always very thoughtful and hand-painted. She cared about making sure everyone felt special. She was an amazing woman."
Kathy was elected to the Prairie Rose School Division board of trustees in October 2004.
"Kathy always had the best interest of parents and students at heart," says board Chair Stuart Angle. "She would remind the board that policy and procedure are not a one-size-fits-all for families. She was an advocate for children and she will be missed."
Cooper sat on many committees and boards as part of her role as a trustee, including the Public School Board, Alberta School Board, Child/Poverty Committee, and FNMI.
She also served as a member of Southeast Alberta Child and Family Services from 1998-2006 and was appointed co-chair in 2011.
Cooper is survived by her husband Allan, son Dan (Jen), and son, Brett (Erin), and six grandchildren.