Hogg seeks second term as PRSD trustee
Posted on September 5, 2017 by 40 Mile Commentator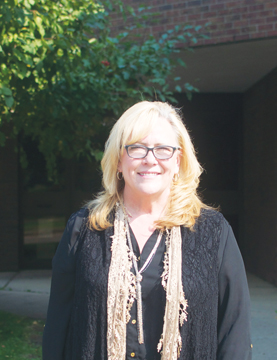 Commentator/Courier File Photo PSBAA president Cathy Hogg
By Justin Seward
PRSD school board trustee Cathy Hogg has declared she will be running for her second term in October's election.
The learning curve has been incredible and to represent Eagle Butte High School, Irvine School, Schuler School and two colony schools has been an honour.
"I just gained a tremendous working knowledge of the division and education as a whole," said Hogg.
"I think I've grown to build a good relationship with my school councils and I've gotten to know my individual schools, their particular needs and the students within those schools. I'm confident in my ability to serve them and to advocate for them and I just want to continue on that path."
Hogg has had some educational experience before coming in as a trustee including adult learning as a life skills facilitator and vocational rehabilitation.
"When I say I advocated for people, I worked will all walks of life and people that had difficulty in finding and maintaining employment," said Hogg.
"There was no shortage in the people that were there because they had failed to realize their potential in school. I recognize the importance of getting a proper education."
She has lived in the Cypress Hills for many years on an acreage and is blessed to live in the area and the trustee opportunity to give back to the community that has done so much for her.
"I believe I've worked hard to earn the trust of people in my constituency," said Hogg.
"In my past work I was an advocate, but the work was reactionary, this is proactive work. I've worked hard for the kids in my community to ensure they're prepared for the transition that face them when school is done."
Hogg focuses in on aspects of education such as the accountability pillar, the results, provincial achievement tests results and that is a small part of of the direction that the board has set for the division, resulting in efficient numbers and something she is proud of.
She is hoping to continue to put a finger on the pulse of what is going on in the community and schools, while pushing for what is in the best interest for students in PRSD.