EBHS loses one of its original staff members
Posted on September 12, 2017 by 40 Mile Commentator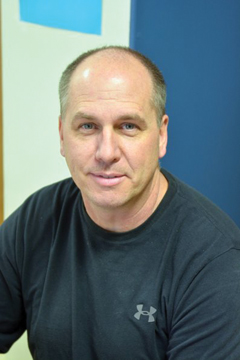 Southern Alberta Newspapers file photo- Former EBHS vice-principal Dave Rozdeba, had a great impact on his students and staff before losing his battle to cancer last week.
By Justin Seward
Eagle Butte High School lost one its original staff members as vice principal Dave Rozdeba has lost his battle with cancer recently at the age of 51.
Rozdeba taught social studies and physical education at EBHS and was instrumental in getting the athletics program running in the school, while he coached the Eagle Butte Talons volleyball and basketball teams.
Prairie Rose School Division (PRSD) deputy superintendent Kal Koch had known Rozdeba for long time dating back to their days together at the University of Lethbridge and were both founding teachers of EBHS in 1996.
"He was an excellent teacher (and) always working well for students and staff ," said Koch.
"We were a great team … and when I moved into central office and Mark took over as principal, he remained vice- principal and our a go-to-guy for so many things."
Koch referred to Rozdeba as the "master induction teacher" because he played a vital role in the induction program for new teachers because he wanted to ensure they knew how to set-up classrooms, the routine procedures, how to work with kids and building relationships.
"Our program runs today with part of the stuff he implemented way back when the induction program first started," said Koch.
"It is a big loss for PRSD and our staff are important to us. He going is to leave a strong legacy. He was widely respected."
EBHS principal Mark Heinricks said through the high school's Facebook page that, "Dave had such a passion for teaching and for watching students succeed."
"He brought a positive spirit and tireless effort to all aspects of our high school."
Rozdeba was also seen out in the community being involved in the local airshow and even hosted this year's event.