Riding for a cure
Posted on September 12, 2017 by 40 Mile Commentator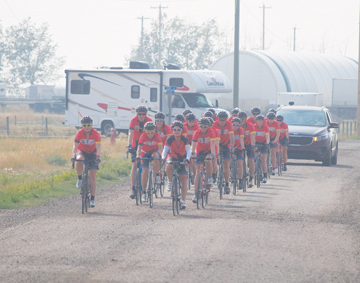 Photo by Justin Seward - Cyclists from the National Kids Cancer Ride pedal into the Premium Sausage parking lot on Sept. 9.
By Justin Seward
Twenty-two of the 31 cyclists on the 10th annual National Kids Cancer Ride were greeted with open arms by supporters at Premium Sausage in Seven Persons on Sept. 9.
The ride is about the foundation's efforts to try and end the disease of kids cancer and improving life outcomes for children and families across Canada.
"The money that we raise goes to research, hospital programs and the 17 pediatric units across the country," said Mike Smith, event manager for the National Kids Cancer Ride.
"But on the lower level as we're out here day-after-day, what the ride hopes to accomplish is to visit all these communities … 10,000 families fighting this disease and from all sorts of small places and a lot of them really don't know people out there realize their hardship and what they're going through. What we happen to bring is a message that there are people all across this country that know they're out there and trying their best to help save their children."
Premium Sausage co-owner Debbie Penner said everybody knows some children on a personal level that are dealing with cancer and when the organization contacted them for stop there was no second thoughts.
"We jumped at that opportunity to be a part of their journey and that's really nice they let us in," said Penner.
"It's so organized but also the riders. I was so excited to meet the riders and truck drivers came in and we connected right away. Everybody has a story, everybody shared. It's just you can't not get caught up in that."
Premium Sausage was on the fourth day stop of the tour which began on Sept. 6 in White Rock, B.C., before making it way through the interior of BC and splitting off where one team went north to Edmonton through to Lloydminster down to Saskatoon, while the other team went through Calgary, down to Lethbridge and over to Medicine Hat and out across the country.
Over $1 million is expected to be raised this year to bring the total to $13 million for the event.
Halifax will be the ride's last stop on Sept. 23.