Geigle acclaimed in Cypress County's Ward 2
Posted on September 19, 2017 by 40 Mile Commentator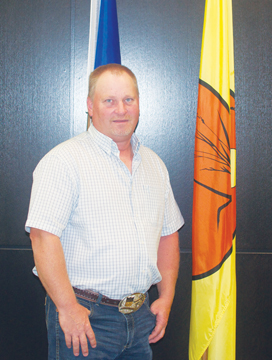 Cypress County Library Board chair Darcy Geigle
By Justin Seward
Cypress County Reeve Darcy Geigle will not have to sweat too much for his councillor's chair because he was acclaimated in October's election.
Geigle is a third generation farmer on the Geigle Farm and Ranch and for him there are more accomplishments that can be done in the county but overall he is satisfied where everything stands as of right now.
"We still have the lowest taxes in Alberta," said Geigle.
"We're starting to get quite a few infrastructure done without having to raise the taxes and not too many governments can say that."
He has only missed one meeting in 13 years and the job entitles more responsibility and time than people think it does and the whole county perspective is in consideration rather then just his area.
"I've been the reeve for seven of those 13 years so with that you get pretty used to that," said Geigle.
"You look after everybody and everybody should be treated the same. If I'm going doing a job, do it, you just don't show up and not say anything. You have a chance to make decisions that affect people, you should be here all the time and be accountable for your decisions."
Geigle said after being on council for a long stretch that he has seen how difficult it has been to keep residents in the hamlets because they prefer to move into county acreages from subdivisions which has put different pressures on council.
"We're still are a rural county with our hamlets," said Geigle.
"It's slowed down now. Personally I like seeing the hamlets growing and less subdividing going on. We still need to keep our agricultural land."
He added this council has plans for the future but after spending millions on infrastructure and that is all they can do to get the water to the people, while he wants more controlled spending and not everything has to be done at once.