Czember looks to bring business angle to Redcliff council table
Posted on September 26, 2017 by 40 Mile Commentator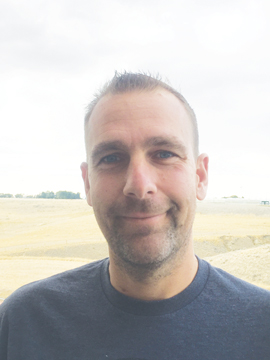 Photo by Justin Seward - Redcliff businessman Chris Czember wants to work at attracting new industry, improve economy for Redcliff.
By Justin Seward
Chris Czember moved Redcliff when he was a kid and now many years later has decided to run as a new candidate for town council in October's municipal election.
He would bring a business angle to council as he is the owner of the Who's on Third and BB's Dollhouse as well as other commercial properties.
"I've wanted to do it for several years as I've been invested in Redcliff for a long time," said Czember on running for council.
"I bought my first house when I was 19 and bought into my first business when I was 21. I'd just like to be a part of the decision making process of Redcliff's future."
He said he is very supportive of local business and supporting them to help with job creation is tops on his priority list.
"As I look around the town, I see empty commercial real estate, far more than it's been in the past," said Czember.
"Obviously it's because of the local economy lately but I'd like to get the message out there that Redcliff is trying to attract new industry. A new industry would be fantastic."
During the campaigning, he wants to familiarize himself with anything happening in the town and the town's website and the inner workings of it.