Wikkerink brings home the music with 'All Above Me'
Posted on September 26, 2017 by 40 Mile Commentator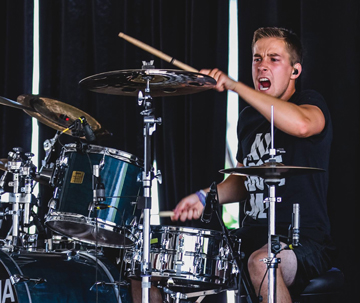 Submitted Photo- Timothy Wikkerink, drummer for the Christian-Rock band, All Above Me, will be performing with bandmates Guiller Contreras and Britt Harris at the Wikkerink farm on Oct. 2.
UPDATE: Due to inclement weather expected in the area on Monday, the concert has been moved to the gymnasium at Cherry Coulee Christian Academy.
By Jamie Rieger
Bow Island's Timothy Wikkerink is coming home and he's bringing a few close friends with him.
Christian-rock fans will be pleased to learn that those friends are his bandmates, Britt Harris (vocals) and Guiller Contreras (guitarist, singer), who along with Wikkerink, make up the Calgary based Christian-rock band, "All Above Me".
The trio will be performing a lively and loud concert at Wikkerink's dad's farm near Bow Island, a concert that will include special guest Xempt Music.
All Above Me has been together for about two years, started in Calgary by singer/guitarist Contreras, whose background includes punk, rock, and metal music.
Wikkerink said he isn't sure where his passion for music came from, except to say that as a child he would constantly beat on the furniture until his parents enrolled him in drum lessons at the Cultural Centre in Medicine Hat at the age of five.
"I took lessons until I was 14 or 15," said Wikkerink, who went on to study at Rocky Mountain College and transferred into their music program. He joined the band just a few months prior to his graduation in 2016.
The band primarily tours around western Canada, but will be touring on the east coast this winter and next year, have been invited to perform at a festival in Germany.
"They can expect a loud, high-energy performance. We like to have a lot of fun and bring a lot of energy to the stage," he said, adding that their focus is to share the word of God with their listeners.
"Our main purpose is to share the gospel with people. That is why we do what we do," he said. "It's all about talking about Jesus."
All Above Me will be performing at the Dave Wikkerink farm at 7:00 p.m. on Oct. 2. Xempt Music will provide the special guest performance.