Proctor wants better fire response time
Posted on October 3, 2017 by 40 Mile Commentator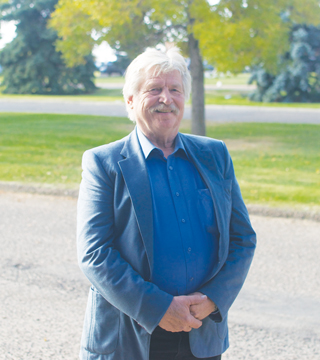 By Justin Seward
Garry Proctor will be running against incumbent Coun. Richard Oster for the Ward 7 (Seven Persons North/Desert Blume) chair in Cypress County.
He is a local contractor and does most of his building in Cypress County and the reasoning for his running is because there has been some infighting between the city and county in terms of firefighting which in his view has left Desert Blume, City View Estates and all of the Holsom Road area without adequate fire protection.
"I think it's a lack of communication," said Proctor.
"I'm not sure the purchase of a building that is set back off the highway, where you have to cross the highway with trucks coming around the corner (and) flashing lights are certainly not going to work at 110 km/hour. Here comes a B-train and he has to stop for a fire truck. I'm not so sure that's a workable system. I think it's a pile of money spent. I think it's a pile of money on renovations that's not going to increase our response time to get to places."
Procter does not see the Desert Blume area being any different then other areas in the county because the rural is becoming more densely populated, while ranchers and communities are becoming larger.
"When you get condensed, you also have danger," said Proctor.
"A volunteer fire department for a place the size of Desert Blume is not going to work. You've got to wait until the guy gets off his tractor and gets into his proper garb and gets to the fire truck and get over there. You need a response time."
On top of the fire issue, he would like to see more physical management and a smaller government because he feels there is too much government where there is the money coming from different spectrums of the budget for operating costs.
"There's continuous, constant people in there fighting over the size of the shop they can have for instance ," said Proctor.
"I recently went in and laid out a map of a subdivision that I did and I said 'look at the size of the shop,' and I dictated the size of every one of them all the way down. Meanwhile, the person I'm running against has a shop that I believe could be in the neighbourhood of 5,000 square feet. It's great for simple servants to fight in going, it's perfect, it's job creation. But you can't take everybody and treat them all differently and expect not to have a whole bunch of animosity and yet they can't seem to get this issue down."
His focus when it comes to spending in the county, is you spend for what you need because to him if a fire sparks that responders is a need and if there is a grader replacement, maybe the current one will do for another year will minimal repairs and that is a want.
He said he deals with council all the time having built in the country and if you go into talk common sense to the people, then they will talk common sense and will take that approach into his approach with other councillors.