The importance of PSA testing helped Paul
Posted on October 3, 2017 by 40 Mile Commentator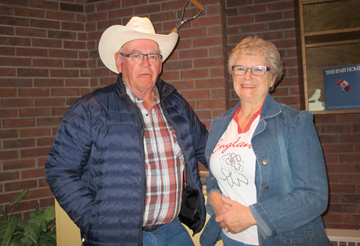 Southern Alberta Newspapers photo - Jack Paul and his wife, Bonnie pose for a photo after sharing their recent experience with surgery for prostate cancer and highlighting the need for regular testing of PSA levels.
By Justin Seward
When 74-year-old Jack Paul was faced with prostate cancer surgery a year ago, he looked no further then his family and a Medicine Hat prostate support group to help in his road to being cancer free.
Paul was diagnosed with prostate cancer after a semi-annual PSA test in September 2016 before undergoing a biopsy in December 2016 and he knew the battle he had of him if he were to be a survivor.
It was in January this year he was going through a bone scan to determine if a the cancer spread to his bones which it had not and in May, since the cancer was already encapsulated in the prostate where he was able to get the micro robotic surgery done, avoiding chemotherapy and radiation.
After the surgery he was declared cancer free.
"I guess I got the best cancer there because we could get it out and contain it," said Paul.
"The PSA is the only current testing available to men. You should have regular PSA checks every six months and be proactive, don't wait, and get things done. Like I say with my two-year window that I had, I said 'well I'm not going wait a year and then find out the window closed two-months ago when I should've acted properly.' My choices are not everyone's choices but these are mine."
His daughter, Charley, is a 10-years cancer free of breast cancer and played an instrumental role for her father because she went through the chemotherapy and radiation where she had her struggles and encouraged him to do the micro biotic surgery because it would be less painful.
Paul had numerous discussions with the local prostate support group representative Phil Buisseret, who had the operation done four years prior to his surgery.
"The surgery was pretty straight forward in what they did but everybody recovers different," said Paul.
"The support group really gives you support because all the members there all have a different methodology of what treatment they took. Also, the recovery factors they observed themselves and passed forward so that other people can be aware of 'hey here's the pitfalls on this and here's the pitfalls on that.' There is not one method or treatment that fits everybody. Everybody is very individual."
The focus point of discussions for the group was how the survivors were able to recover and as soon as they heard of anyone that is being processed for prostate cancer discovery that they provide all the assistance they can to help them through their journey.
"Be proactive, not reactive," said Paul.
One in seven males are effected by prostate cancer and September was prostate cancer awareness month.
People can contact Hugh English at (403) 502-5683 or Buisseret at (403) 548-6297 if they want anymore information on the program.