Tuchscherer hopes to bring experience to BI council table
Posted on October 3, 2017 by 40 Mile Commentator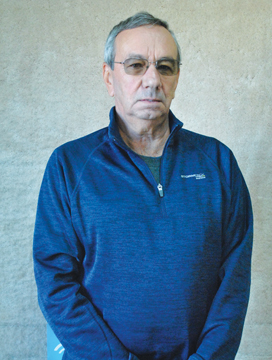 Photo by Jamie Rieger- Lyle Tuchscherer will be returning to Bow island town council after receiving 235 votes in Monday's civic election.
By Jamie Rieger
After stepping away from municipal politics for a few years, Bow Island resident, Lyle Tuchscherer will competing for a seat in the upcoming election.
"Being born and raised here, I feel it is important to offer my time to the community," said Tuchscherer. "The community is changing and growing; I want to keep my finger on that part of the future."
Tuchscherer spent 18 years working in local law enforcement in the County of Forty Mile and was the first auxiliary police officer in Alberta. Following that, he and his wife purchased the local lumber yard which they operated for nine years. Tuchscherer is currently the project manager for residential sales for Jayco Homes.
His career in politics started many years ago when he sat on the Municipal Planning Commission, serving as chair for a couple of years. He then ran for council and served for 15 years.
Tuchscherer said there was no specific issue that prompted him to run for council, but wants to bring his ideas to the table.
"Nothing specific triggered my decision to run, but I feel now is a good time to share my experiences. I saw administrative changes, saw larger projects get completed, and given the field of candidates, I feel I can offer something to council," said Tuchscherer. "I have no specific concerns with the town. I want to be part of council and be able to contribute my ideas."
Tuchscherer believes Bow Island residents can approach him about issues and concerns, and will take those concerns into consideration before making a decision.
"I listen to others before making a decision, I am approachable, and I am willing to give the time it takes to get things done," he said.