Buis: More work to be done in Foremost
Posted on October 10, 2017 by 40 Mile Commentator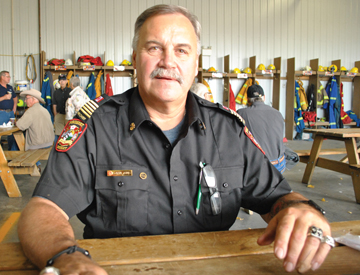 Foremost Mayor Lorne Buis
By Jamie Rieger
Foremost born and raised, Lorne Buis has been sitting on village council since 1990 and is running for another term on council as a way to keep giving back to his hometown.
"This is a way for me to give back to my community," said Buis, who operates the family business, Buis Holdings.
He has been active with the Foremost fire department since 1980 and the Ambulance since 1982, has been involved with numerous initiatives around town, including minor sports, Sage Club, Ag. Society, rodeo, and the recent upgrades to the Civic Centre.
"The arena is the centre of our community. It's important that we keep that place up," he said.
Buis said that while the village is doing a great job, there is more work to be done. One thing Buis would like to see council continue to work on is housing for seniors.
"Housing for seniors who don't need assisted living is needed. At the school, we see declining enrollments and we need to work with the Mennonite community," said Buis. Our streets are in great shape and we have little issue with our infrastructure and we keep working at it."
Buis commends the staff at the village office for keeping things rolling at an even keel.
"Our town workers and administration do a great job and it does take the pressure off the council," he said.
With an active election campaign underway in Foremost, Buis noted that it's good to see younger community members show an interest by running for council.
"I really believe its good to see these young people step up and get involved," said Buis.