Klatt, Tuchscherer the leaders in Foremost, Bow Island elections
Posted on October 16, 2017 by 40 Mile Commentator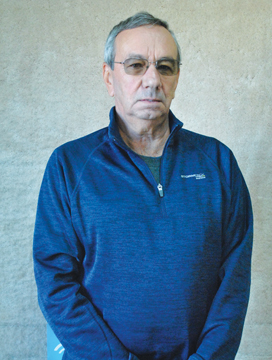 Photo by Jamie Rieger- Lyle Tuchscherer will be returning to Bow island town council after receiving 235 votes in Monday's civic election.
Correction: Bow Island candidate, Lyle Tuchscher received 255 votes, not 235 as is indicated in the article. The Commentator apologizes for this error.
By Jamie Rieger
There will be a few new faces and a few veteran councilors sitting around the table at the Bow Island and Foremost council meetings after Monday's municipal elections.
It was a newcomer to municipal politics who got the most votes in the civic election in Foremost, a community that has not had a civic election since 1999. Blake Klatt said he was surprised to have had such a commanding lead.
"I was more surprised than anything. I thought it was going to be nip and tuck," said Klatt, who plans on working to keep the village a great place for families.
The unofficial Foremost results are, with the top five candidates rounding out the new Foremost council:
Blake Klatt- 192
Tyson Ormann-158
Ken Kultgen-154
Lorne Buis-118
Stewart Payne-118
Brent Burton-110
Rena Scratch-54
In Bow Island, it was a previous councilor who earned the most votes of the 12 candidates running. Lyle Tuchscherer said he was pleasantly surprised by his high vote count.
"I thought I had a fair shot at it, but I am pleasantly surprised," said Tuchscherer, who was a the polling station for the vote count. "I am ready to get to work as a team and we have some new members on council to work with."
344 Bow Island residents cast their ballots in Monday's election. The top six candidates will be the next Bow Island council. The unofficial results for the Bow Island election are:
Lyle Tuchscherer-235
Bernice DeLeenheer-212
Alan Hyland-181
Rob Ficiur-171
Dave Harrison-163
Terrie Matz-160
Marj Moncrieff-151
Ian Hildebrand-128
Nan MacLean-120
Shannon Strom-88
Kevin Davis-66
Louise Lyons-54
Bow Island mayor Gordon Reynolds, who acclaimed his seat, thanked the 12 candidates.
"I want to thank the 12 candidates who put their names forward and showed an interest in local government, especially to those who aren't successful in today's election and congratulations to thos who are," said Reynolds. "I look forward to them being part of our team as we continue to make Bow Island and terrific place to live."
Prairie Rose School Division
Stacy Hammel stepped up to fill the seat for Ward 6 Foremost/Manyberries which was left empty by the passing of Etzikom's Kathy Cooper.