Cypress County firefighters, RCMP at the scene of large grass fire along Highway 41 North, Hilda residents are being advised to prepare to evacuate
Posted on October 17, 2017 by 40 Mile Commentator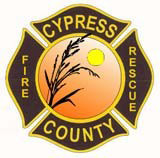 Redcliff RCMP and Cypress County Fire crews are on scene of large grass fire near Hwy 41, north of Medicine Hat.
At approximately 12:52, Redcliff RCMP were informed of a grassfire moving rapidly due to high winds. Highway 41  is currently closed due to the fire and extreme smoke conditions. Resident of the village of Hilda have been advised to prepare to evacuate on short notice.
Hilda is located approximately 50 km northeast of Medicine Hat, near the Saskatchewan Border.