2017 could be banner year for local sugar beet growers
Posted on November 7, 2017 by 40 Mile Commentator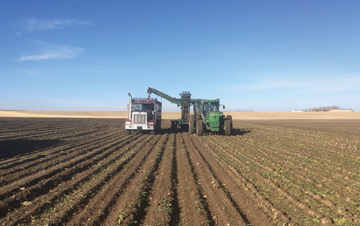 By Justin Seward
Commentator/Courier
The 2017 sugar beet harvest was delayed this year with the snow storm that rolled through in early October.
However, it did not stop producers using alternateive ways and finishing what turned out to be another successful harvest.
The Bow Island and Burdett areas received the most snow out of any of the areas and delayed the harvest for a whole week.
"It was just wet and guys couldn't get going," said Steve Wikkerink, who has farmed sugar beets northeast of Bow Island since the 1970s.
"It's harder on the machines to get the mud out of the beets when we're harvesting. The biggest challenge on a wet harvest is actually keeping the trucks moving in the field. There's more trucks getting stuck and guys are having to pull trucks and it just depends if your pulling with a change, a rope or cable. All of those things come with added risk to them."
With the limited time frame to harvest the sugar beet and the receiving stations piling so much beets, it becomes a 24 hour operation period.
"Even after the snow, there were producers that we heard that were pulling lots of trucks," he said.
" But we got three, four days back into harvest, pretty well everyone kept the trucks moving on their own and harvest moved along very nicely."
Wikkerink said two years ago was the "perfect harvest," with perfect conditions, while last year was a very and with the way this year's harvest was starting the same issues may have surfaced again.
"This turned out to be an average harvest," said Wikkerink.
"It was good moisture, not excessive, not a lot of heavy frost."
According to Wikkerink, this year's totals could be another record breaking year.
Another local producer Josh Klassen was surpised after the weather let up how well the harvest went.
"It was a good two week run and went well," said Klassen.
He added with the late start came the risk of the crop freezing in and not getting it out in time.
The consistency of crop productions is out of their control because it all depends on the weather.
"Heavy frost with downgrade the quality and effect the ability of the crop to be stored properly," said Klassen.
"If it's too muddy then there's going to be more costs to the producer and reduced return."
Klassen said being a third generation sugar beet farmer that the crop has been a consistent return for their farm.
Producers were able to get the last of the crops off by the end of October.