Hilda farmer looking for more government support
Posted on November 7, 2017 by 40 Mile Commentator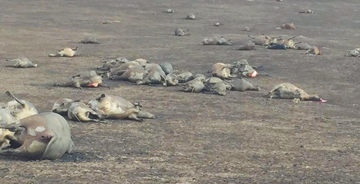 TIM KALINOWSKI
Southern Alberta Newspapers
Hilda area farmer Ken Kundert will never forget the day on Oct. 17 when a devastating wildfire burned through his lands leaving nothing behind but scorched earth and dead and dying cattle.
"You're not making any sense of it all because it is so much, so fast," says Kundert, recalling the day of the fire. "The really devastating part of it was the wind which drove it so hard and so fast. Right behind it the soil started blowing. You could literally not see anything. Many people were lost in direction and you didn't know where you were. And these are people who have lived here their whole lives."
As Kundert ran toward the front lines to fight the blaze alongside his neighbours, his wife Sherry did what she could to help at the Hilda community hall where most in the surrounding area had been evacuated to. Eventually she would be forced to evacuate to Medicine Hat while Ken stayed behind to fight the fire.
The Kunderts would lose dozens of animals on that day alone, but the death toll now stands in excess of 120 and rising.
"It's changing because we are still treating cattle that have gone through the fire," explains Kundert. "Not all of them were killed on the spot."
Kundert's family has farmed in the region since 1910 and, according to family lore and records, they have never experienced a disaster remotely similar to this before.
"It's a huge impact financially and mentally," says Kundert. "And it's not just the animals, our grasslands are not in good shape, and that weighs on your mind too. We take pride in the land we operate and we try to manage it to the best of our abilities, and therefore we always make sure it is in the best shape it can be with the weather we have. It's a lot of work, and it is really devastating to see your years and years of hard work gone in a flash."
Kundert says government relief thus far has been sparse and slow in coming for local landowners. He hopes that changes soon.
See Victims, Page A2
"I want to try to get the word out so people understand what we are dealing with here," he says. "We are not looking for handouts. We are looking for relief for immediate needs that have to be looked after. We just want to make people aware of the magnitude of the situation. For the time being, we are hoping the officials who make the decisions can take the time to come out and see not only what we have gone through, but to see what we are still living in."
Kundert says he is thankful for all the volunteers who came out to help with the fire and to all those to come by since to express concern and pitch in. Kundert knows the journey ahead for his family and all others devastated by fires in the area will be a long one.
"Ultimately, it is depending on the weather," he says. "If we have the same weather we had this past summer I wouldn't want to say how long it's going to take for the land to recover. With perfect weather, three to five years is what we are talking about."
A local fund has been set up to support families affected by the fire. To donate email hildacommunityassociation@gmail.com. Or call Steve at 403-502-4656.