Barrette retires from county duties
Posted on November 14, 2017 by 40 Mile Commentator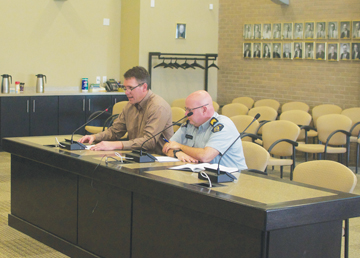 Cypress County enhancement officer, Cst. Joel Barrette,came before council along to announce that he will be retiring from the "County Mountie" position after three years at the Nov. 7 meeting.
He enjoyed his time serving and patrolling for the county residents.
"It was a pleasure," said Barrette.
"Next week I'll be on reduced duties. But I do plan on making two more patrols through the county to say farewell."
He has been on medical leave since Sept. 25 with minor surgeries done and other officers have been on patrol in his absence.
During the past quarter, a burning barrel was smoldering at a residence on Range Road 70 in September. Cst. Barrette poured water in the barrel to make sure the embers were extinguished. The owner was not home at the time and was warned about the fire ban and the associated fine.
There were 138 tickets issued on secondary and county roads with 54 tickets written up on Township Road 120 between Black and White Trail and Eagle Butte Road.
All the hamlets were patrolled during the last quarter.
Barrette will be back part-time with Redcliff RCMP's traffic unit starting on Dec. 4.
Property crimes up in county
Maxwell also noted that property crimes were up from 57 in the previous period to 93 in the current period.