Bow Island Legion keeps tradition alive
Posted on November 21, 2017 by 40 Mile Commentator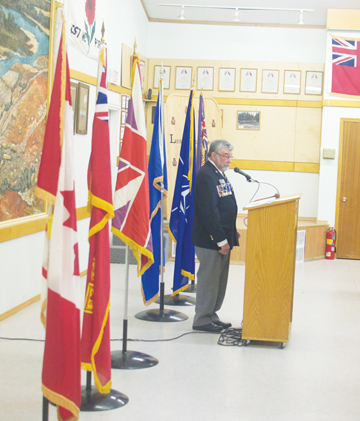 By Justin Seward
Commentator/ Courier
Small community legions such as the one in Bow Island have to rely on volunteers to keep its doors open and with very few veterans left, it is a tall task at times to keep it open.
"Well Without the volunteers, we'd close out doors in about two days," said Gordon McCormick, president of the Bow Island Legion Branch 197.
"The membership is declining to no fault of anybody. It's just something happening to all service clubs and the legion in particular because the newer veterans don't really want to belong to us because we're not really doing that much. We keep trying but younger people don't want to come to a building and sit down and enjoy a coffee."
The members have tried for years and years to toss around ideas as to how they can keep people interested in the legion, but it comes down having the community volunteers for the veterans, however, for many it is difficult for them to realize what the legion is all about.
"A lot of young people don't know what a veteran is," said McCormick.
"That's like around here, we have very few left between Foremost and Bow Island. There's only a handful left and a legion is for the veterans. It's there to support them."
The legion honours the few veterans left but the only time they are out is Remembrance Day due to their older age.
McCormick said the difference between a small town and big city legion is family because the urban centres have more to draw on, while having more money to get people to participate in events like meat draws and hosting a canteen.
Branch 197 is a rental unit where the profits coming in from community functions as well as hosting three to four functions a year that belong to the legion.
David Hyland has been a legion life member for 40 years because his father, mother, brother and grandfather were all veterans and wanted to keep the family tradition afloat.
"We got to keep the tradition going of remembering our veterans," said Hyland.
"We're getting fewer of them every year but we have the new military service so we got to be ready to help them in the time of need."
He said the legion's executive hasn't changed in 10 years and would welcome more members if they have a few hours a month to spare to attend meetings.
There is a possibility the legion will down size in a few years and sell the building to create a more comfortable atmosphere.