Redcliff Girl Guides seeing reduced stigma
Posted on November 21, 2017 by 40 Mile Commentator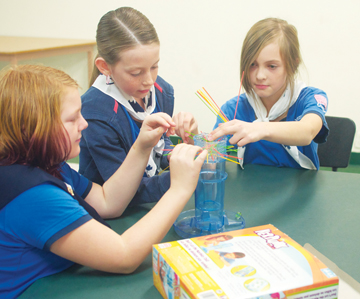 The Redcliff Guide program has been about self building, so they can feel comfortable in their own shoes when they walk out the Baden-Powell Centre doors. This has become an important issue at meetings because before there was stigma recently surrounding the group because you had to be a certain type of person to fit in.
"We've broken that stigma," said Sandra Smith, guide leader.
"So they're comfortable out in the community doing the things we asked them to do volunteer wise."
Smith said with Redcliff being a small town it can become cliquey and it is important for the girls to expand on what they see at school and form a friendship with others at guide meetings with bullying being prevalent in schools.
Additionally, when the girls arrive to meetings, it allows them to be themselves and participate in activities that are of common interest.
"It's a soft place to land," said Smith.
"We don't ask them to be anyone else. We build on who they are and make them stronger girls. If they have issues at home, they can come to us, if they have issues at school, they can come to us. Again, bullying is bad in Redcliff, if they have problems with that, they can come to us. We will find them the resources to deal with it."
A regular Guides meeting is set out for the girls to earn their Lady Baden Powell by following certain guidelines. The agenda is set up for them and with having enrollment recently while having a painting night and the leaders will ask them what they would like to do during the meeting.