Literacy interest going up in BI
Posted on November 28, 2017 by 40 Mile Commentator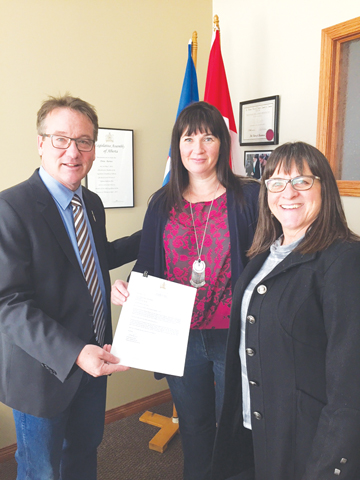 Photo Submitted by Kathryn Van Drop Cypress-Medicine Hat MLA Drew Barnes handed over a cheque on Nov. 24 to the Susan Andersen Library manager Kathryn Van Dorp and library board chair Carla Robertson to help with the library's solarium project that will begin in the spring of 2018.
By: Justin Seward
Commentator/Courier
The Susan Andersen Memorial Library in Bow Island has around 600 memberships and has seen an increase in one to two people per day recently walking through the doors to take an interest in literacy.
"I think we're doing fabulous," said Kathryn Van Dorp, library manager.
"We always have activities going on in here that appeal to different people."
With being a Shortgrass Library System member, the evolving of literacy hinges on the cutting edge of technology changes.
"Our system is very lucky that the people that look after it, they're on it," said Van Dorp.
"We have music, movies books and E-books on demand. We have the magazines and newspapers from around the world. We're there, we move along with what the trends are. I think in our community, I wouldn't say they compete with each other, like having the electronic resources has probably brought more people to the library or some people back to the library."
Van Dorp said having a literacy hub in the town is huge because it's not just books but a place for new comers in the community because they are interested in the services and for others it is an opportunity to rent a movie to learn how to speak English.
"We're constantly looking at the needs of the community," she said.
"That's our main focus , not what we want, it's what do you want."
Ongoing activities include every Friday there is a preschool story time where moms and dads can come with their toddlers to do stories and crafts, Craft-a-noon is available for the older kids, while over the Christmas season there will be matinee movies for kids. There is adult programming available with "Do It Yourself" Christmas card evenings or information sessions.
The future of the library is to continue to educate people on what is available to them and to expand with the new solarium in 2018 that will be attached to the building.