Redcliff Fortis linemen helped in hurricane clean-up
Posted on December 5, 2017 by 40 Mile Commentator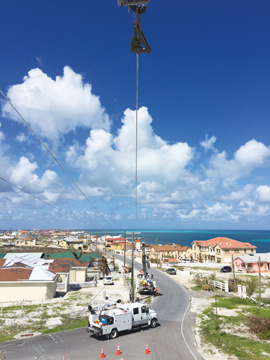 Photo submitted by Ben Herman Colin Derkson and Ben Herman were a part of a Fortis crew that help restore power in the Turks and Caicos after Hurricane Irma ravaged the island in October.
By Justin Seward
Commentator/Courier
Fortis Alberta Redcliff's lead power line technician Colin Derkson and power line technical Ben Herman were among 40 provincial wide employees who were a part of a seven crews from across the country that helped restore the electrical distribution system on the Grand Turks Island after Hurricane Irma struck in October.
It was disastrous to the point where 75 per cent of the poles had to be worked on and Derkson put it into perspective where if there was a 185 mile/hour wind there is no telling what those poles will look like in the aftermath.
"There was things hanging everywhere," said Derkson.
"Lots of people had generators, so we have to worry about for our safety,backfeed, if they're going to be putting power back on to the line. We have to be really diligent that there aren't generators running or if they are , that they are hooked properly."
Derkson had been in the area earlier this year for a planning project and had experienced the difficulty of getting the equipment in to work with on the lines.
"Material and trucks were the biggest thing ," said Derkson.
"Getting men down there is no problem, but getting material and equipment on a barge … this hurricane went through all the Caribbean Islands and Miami, (where ) all the material and trucks came out of the port in Miami. So trying to get dibs on a barge coming out of there was slim pickings."
Workers were faced with outdated equipment and had to be organized with making products work in a certain time frame.
"Things are on Island time," said Derkson.
"We were reusing a bunch of material they had in their yard down there. We were just trying to make that stuff work because you'd have reels of wire that were just sitting out in the yard for 10 years that were all rotten, so we'd have to put reels of wire back together with nails and 2x4s. Up here if something is two minutes late, we're asking questions. But down there, there's a timeline for everything to get shipped. You just have to bide your time and makes things work. Up here we're used to everything new, all new material, all the exact tools for everything."
Every crew had a different day off in the three weeks and Derkson and Herman's group took the opportunity to go fishing and snorkeling.
Herman has been a Fortis linemen for 7 years and at the beginning it was overwhelming to see how the storm ravaged the area and the conditions the crews had to work in.
"We were all climbing poles all day, every day for the first week and a half," said Herman.
"It was unbelievable how hot it was, like just sweating. Our legs were getting rubbed raw from climbing the poles. I don't know how many poles we' would've climbed in a day but it seemed like quite a few. The people were super happy to see us there. They knew from previous experience, there was lots of comments made 'the Canadians are here.'"
His cultural experience evolved around them getting noticed as Canadians because the locals clapped for them and said thank you on multiple occasions .