Low German speakers getting English language assistance
Posted on December 12, 2017 by 40 Mile Commentator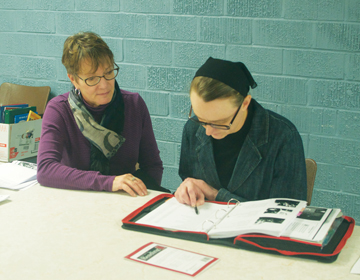 Commentator/Courier Photo by Justin Seward 40 Mile Adult Learning Association executive director Jodi Cassel teaches Tina Buhler ESL at Evangelical Free Church in Bow Island on Dec. 7.
By Justin Seward
Commentator/Courier
The County of Forty Mile Adult Learning Association continues to see an increase in new comers coming into to take english language courses after immigrating to rural Alberta.
Foundational learning is the association's mandate because with with a high Low German population that they have to adapt to basic language skills.
"Any new comers to this area can come," said Jodi Cassel, the association's executive director.
"We have besides the Low German population, we have some from China and Japan. Bow Island is quite cool that way that they have different groups of people that come and live here for a bit and have summer jobs and then off they go."
The mostly women programs that are available at the classroom sessions is the English as a Second Language (ESL), which enable the Low German students to identify objects and spell them out or English Learning the Language (ELL) where they are learning the language.
Both learning strategies run from Monday to Friday in Bow Island at the Evangelical Free Church and in Foremost at the legion hall from Monday to Thursday, while there is a session for the men on Thursday nights at Senator Gershaw School.
The association's focus is those planned activities such as the new comers night and workshops with the Low Germans as the main group in mind.
"We've found with this group of people, they need to learn lots," said Cassel.
"When we had our newcomers night at Burdett, we had the RCMP there talking about things that they've encountered with them and seat belt laws. Then we had the fish and wildlife too that there is rules and regulations for size and length for catching fish. Then we had Alberta Health Services for healthy living. We had the Positions and Acquisitions Licence course (PAL) that they need to take to buy ammunition before they can shoot a dear."
Cassel said the low German women enjoy coming to the classes because it is a nice change from working in their homes and she really enjoys working with those people through the tutors who split the classes up.
"We want them to understand that we can help them," she said.
"If it's just me doing it in my English, I couldn't get that across, you need a translator."
The association is looking for a low German liaison community worker starting in the new year and the deadline is Jan. 8 to apply and more tutors are needed for two hour time slots.
More information can be found by calling the Forty Mile Adult Learning Association at (403) 867-3973.