Hidden Valley's opening day goes without a hitch
Posted on December 20, 2017 by 40 Mile Commentator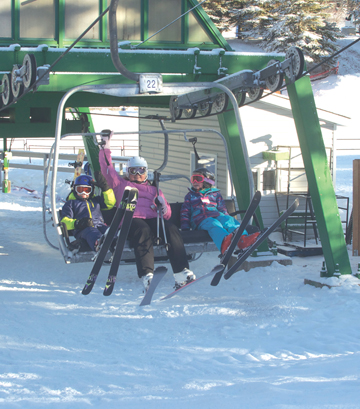 Commentator/ Courier File Photo Theo and Yolanda Marx, along with Carly Kaempel, came all the way in from Moose Jaw to enjoy the sunshine on Hidden Valley Ski Resort's opening day on Dec. 16, 2017. The ski season for 2021/22 is in jeopardy as the hill sits in limbo awaiting a private operator to take over.
By: Justin Seward
Commentator/Courier
Skiers were treated to flawless conditions and sunshine above them as they hit the slopes on opening day at Hidden Valley Ski Resort on Dec. 16.
"It's kind of like the release off a pressure cooker," said Mike Ractliffe, head of visitor services for Cypress Hills Interprovincial Park, on opening day arriving.
"You're trying to get things done and mother nature is not cooperating but we aimed for the 16th and turns out it's been a good start to the season. We've got three of our main runs open and a little bit of fresh snow over night makes it look like winter out here."
The overnight snowfall of about 4cm made it so the hill looked wintery but most of powder came before with the man made snow process,, he added.
He said the ski hill was fortunate enough to experience the colder temperatures before the warmer snap came in because when the warmth hit, the crews had pumped out seven million gallons, which is over half of the normal amount of man made snow they use to operate the hill.
"Ultimately, we're confident," said Ractliffe.
"Some of the other challenges about improving the guest experience with additions to our rental shop have been delayed. There have been some challenges but we are open and people are enjoying themselves and that's the main thing."
The attendance has depended on what is happeining with the weather in Medicine Hat and if there is no snow there, Ractliffe said "It's only the die hards that look towards the hills and say there's snow."
For the hill, the focus has been to bring in different products with various price tags to make the day affordable. The seasons passes have been as low as they ever been, while day ticket prices have been reduced.
More information can be found at skihiddenvalley.net.