Wind farm project coming to County of Forty Mile
Posted on December 20, 2017 by 40 Mile Commentator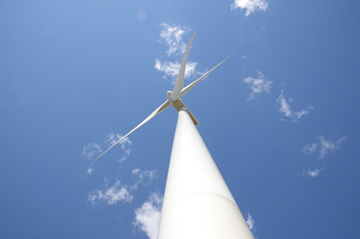 NEWS FILE PHOTO
By Justin Seward
Commentator/Courier
Christmas came early for the County of Forty Mile as the hamlet of Whitla was announced as a successful bidder for a windfarm project that will be built by the Edmonton-based Capitol Power at announcement in Calgary on Dec. 13.
The proposed Whitla Wind Farm won a 20 year supply contract for the 200 megawatt facility.
Between the three companies that were chosen in the opoening round of the Renewable Electricity Program will result in $ 1 billion of private sector- investement in green power generation in Alberta.
It is expected there will be 58 turbines constructed on the land east of the Forty Mile Reservoir.
Alberta Premier Rachel Notley said at the press conference that the Alberta will not be paying the going rate of eight cents per kilowatt hour and not even four cents that many were projecting but with the set out 20 year contract Albertans will be paying 3.7 center per kilowatt hour.
"That's less than half that some people projected and less than what we budgeted for," said Notley.
"When we put out this first call with the parameters we set , we expected to get around 400 megawatts. We budgeted conservatively, prepared for the chance the cost would come in at eight cents a kilowatt hour but because the auction was so competitive and because interest in Alberta was so high we were able to get 600 megawatts instead of the original 400. Not only did our plan work but it exceeded expectations and it's a new record for energy pricing in Canada."
The County of Forty Mile Reeve Steve Wikkerink saidhe he heard the news from Bow Island Mayor Gordon Reynolds who congratulated the county on the project.
"The county is very excited to be in the green energy pool and hopefully this is just the start of a bunch of different green energy that we can do in the county. ," said Wikkerink.
"We've sitting here for a couple of years hoping to land some type of a industry in our county. We're not a huge oil and gas county and with the oil prices dropping and the sogegross down south, that really has hurt some of our taxation coming out of the oil and gas. That's hurt us arounda half a million dollars a year."
Capitol Power CEO Brian Vaasjo said the wind resource in the area is one of the best in the province and combined with the history that Shell established and the landowners made it a tremendous site.
He added the overall footprint with the 200 megawatts project will be built on 20,000 acres, which will come with property tax payments and payments to landowners.
"Early next year we'll actually be communicating with landowners and stakeholders just in terms of what they can expect," said Vaasjo.
" We'll have an increasing presence there starting fairly soon with things like surveying. It'll be in aprt to give them an understanding of what to expect in the next two years."
Construction will begin later in 2018 and into 2019 and with around 200 people on the job site and will create economic opportuniites with local employment and hotels.
Economic Development Alliance of Southeast Alberta's executive director Theresa Hardiker said with the project will present new opprotunities and investment that would be related to the renewable energy.
"I think the renewable energy will start to diversify," said Hardiker.
"It'll bring in either direct or indirect jobs in an indsutry that would be looking for leaders in renewable energy. It's not only going to start with wind. I think it's going to open up opportunities as far as medium and small projects. it's a stepping stone to understanding renewable energy."
Other renewable energy contracts included Edp Renewables Canada Ltd., which will build a 248-megawatt wind farm north of Oyen, and Enel Green Power Nowth America Inc., who will build two projects adding up to 146-megawatts near Pincher Creek.