County declares state of disaster for Hilda fire
Posted on December 29, 2017 by 40 Mile Commentator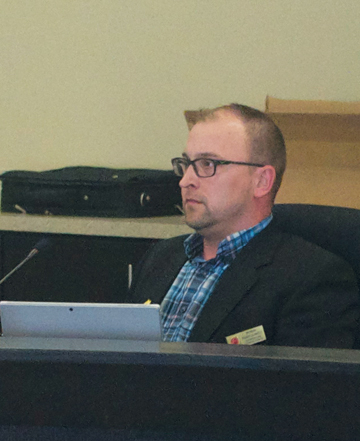 Cypress County Coun. Robin Kurpjuweit
By Justin Seward
Commentator/Courier
Cypress County council passed a motion to declare the Hilda Fire a state of disaster at its Dec. 19 regular meeting.
Council was given information for what declaring a disaster doesm as there is no legal requirement to do so under the Disaster Recovery Program (DRP). The only reason to declare a disaster is for greater publicity. Furthermore, there has been a great deal of local publicity on the fire as there was contact with local MLAs and the MP and two meetings between council representatives and provincial ministers.
"There's no one we've talked to yet that can tell us who actually would say that is needed," said Coun. Robin Kurpjuweit.
" I tried yesterday to dig into it myself because this it the third time that it's come up. We need to find out because I'm kind of getting tired of looking at it over and over again."He would like the county's director of corporate service John Belanger and his staff to come back with information on what declaring a disaster empower Cypress County to do.
"If you declare a disaster now and there is any action required of administration, we can move on rather then bring back for information," said Belanger.
Coun. Michelle McKenzie said in spite of declaring a disaster that there will be a decrease in people phoning inquiring about the county having to declare the event.
"After doing all that homework from before and working with our CAO and working with the ministers we really felt we hadn't missed anything," said Cypress County Reeve Richard Oster.
"Now that this other insurance program forward, yes we're glad to do it for those people if it's going to help them out and we want to definitely dive into a little deeper."
He added the next step is to keep the pressure on the government to come forward with a cheque to help these people out especially for their lost income, said Oster.
Tax return
Council moved to refund $11,886.72 of municipal taxes to the impacted property owners after the Hilda Fire in the form of a credit for properties listed in Schedule A except roll 129100 and 119900 where refunds will be issued as a cheque.
"It was a great idea," said Oster.
"Anything you can do to help those people out. It wasn't in big dollars, it wasn' a lot of money but every bit will help those people . I would like to think council has compassion. It's showing by saying we feel 'that all the ratepayers in Cypress County are feeling for those people and yes if we can help them in a small way we should do it."