New Redcliff town councillors reflect on time in office
Posted on January 9, 2018 by 40 Mile Commentator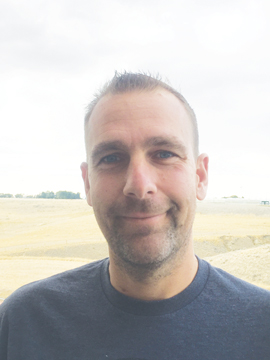 Photo by Justin Seward - Redcliff businessman Chris Czember wants to work at attracting new industry, improve economy for Redcliff.
By Jeremy Appel
Commentator/Courier
Redcliff elected two new town councillors on Oct. 16, Shawna Cockle and Chris Czember.
The Courier spoke with both about their first few months in office and their political priorities for 2018.
Despite being new to politics, Czember had the second-highest vote total of all council candidates in the October election.
He received 721 votes, behind only veteran councillor Eric Solberg's total of 773.
By comparison, Mayor Dwight Kilpatrick received 591 votes. (This, of course, doesn't mean that Kilpatrick is less popular, but that Redcliff voters could choose up to six councillors but vote for only one mayoral candidate).
Czember, who owns two bars in town, says he's quite enjoyed his transition to public life.
"It's a fascinating job," he said. "I find when I lay in bed at night that my mind wanders towards town council issues."
Czember seeks to play an active role in the town's affairs, the reason he ran for council to begin with.
"I don't want to be another body at the table," he said, emphasizing that this wasn't an dig at any other councillors.
Czember says his major goal on council is to make sure the town gets the most for its tax dollars.
He cited council's cost-cutting for a dog park upgrade as an example of this philosophy in action.
"I would love to see a dog park with an $80,000 improvement, and so would my dog, but I don't think that would be as fiscally responsible as it should be," Czember said.
He put forward a motion to reduce the project's budget to $20,000, which passed unanimously.
"It's not an accomplishment of mine," said Czember. "We all voted on it, so it's our accomplishment."
Cockle says she's learned a lot in her brief time on council.
"It's been a huge commitment," said Cockle. "It's been a bit of a learning curve.
"Although I've sat on many boards and been part of many organizations, the town is a little bit different.
"We've got lots of policies, procedures, bylaws and committees that kind of meld together."
Cockle cited improving the town's infrastructure, specifically its sewer system, as her major policy priority for the new year.
"The system is old and it needs help," she said.
Her broader goal for 2018 is to continue learning with the goal of improving upon existing processes.
"I hope that I can stand behind my community and do what's best for everyone," said Cockle.