Cypress County reeve looks ahead to 2018
Posted on January 12, 2018 by 40 Mile Commentator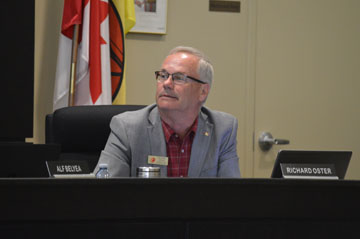 Southern Alberta Newspapers file photo Cypress County Reeve Richard Oster
By Justin Seward
Commentator/Courier
Cypress County Reeve Richard Oster has been in the head council seat for a three months, admiring how councillors have been engaged in more debating on issues, which he said will bode well going in to 2018.
"We're looking long and hard at everything that's coming up," said Oster.
"It really helps you move forward when you can have everybody's ideas and one of the things I'm excited about is Feb. 8, council is going to have a strategic planning session. We have three new council members and this will be an exciting time for us to have their input in to the direction council be taking in the next four years."
An issue he wants council to push for is convincing Alberta Transportation to install a traffic light at the intersection of Trans Canada Highway and the Dunmore Service Station entrance.
"It's really hard to promote residential growth in that area when you're dealing with such a dangerous intersection," said Oster.
"With a little bit of luck, we'll have somebody from transportation visiting us maybe as early as March."
The county has an engineering firm working on a traffic assessment to gather an analysis transportation might require.
Hamlets will continue to see infrastructure improvements while the rural areas will see construction on their developed and undeveloped roads.
Cypress County, the City of Medicine Hat and Town of Redcliff will discuss intermunicipal collaboration with a date yet to be determined for meetings on recreation and road sharing, which are bound to be topics of consideration.
"This council is really looking forward to working with the City of Medicine Hat in developing strategies and making plans that would be beneficial to both of us," said Oster.
More water rights will be pursued for the water co-op east of Dunmore and a housing development in the hamlet.
The county hopes to have more renewable energy projects in the area after the recent news of the County of Forty Mile being a recipient of a project in December.
Staff will be taking training sessions in February to improve emergency management communication after the events during the Hilda fire.