Foremost high school student experiments with biodiesel
Posted on January 23, 2018 by 40 Mile Commentator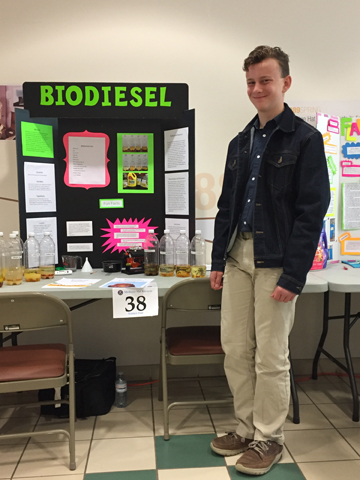 Photo submitted by Rita O'Hara Jordan Kurtzweg won last year's science fair at Foremost School for his experiments with biodiesel.
By Jeremy Appel
Commentator/Courier
Foremost School has a science whiz-kid in its Grade 9 class.
Jordan Kurtzweg, 15, won last year's science fair for his experiments with biodiesel, making renewable fuel out of cooking oil.
"It's the same thing as diesel, but it's made using organic products," Kurtzweg said.
"It's much better for the environment. It doesn't produce the same fumes that the other ones do. It's also non-toxic, so if you spill it on the ground, it's not going to hurt any plants."
He used canola, olive, corn and peanut oil for his science fair project.
Although it's more expensive than conventional fuel, it's recyclable, so it saves money in the long run.
"If you have old (cooking) oil, you can turn it into diesel," said Kurtzweg.
The same process allows you to make glycerin, which can be used for soap and hand creams.
Kurtzweg first became interested in biodiesel through a family friend who makes it, but his father, Curtis, says Jordan has always been fascinated by science.
"He's got a really good science mind," said Curtis.
"For a Christmas present, we bought him an elements book and he spent hours going over the elements, memorizing (and) knowing all the facts of each element.
"We could tell right away when he was young, like when was four, that he just liked learning."
Curtis says the teachers at Foremost School have always been highly supportive of Jordan.
The school is small — there are 10 kids in the Grade 9 class — so it doesn't have very many teachers.
"(The teachers) give the extra effort, so I think that's a huge benefit of a small school — that they can have time," said Curtis.
Jordan also tries to keep learning at his own quick pace.
"If we're learning about something, then I'll go home and learn more about it, more advanced things and keep going with it," he said, adding that the teachers are helpful in giving him extra assignments.
Although still at the beginning of high school, Jordan plans to study science at the University of Alberta once he graduates in a few years.
This year, Jordan plans to do his science fair project on wind energy, a timely topic, as nearby Whitla readies its windfarm project.