Forty Mile Early Childhood Coalition looks after health, well-being
Posted on January 23, 2018 by 40 Mile Commentator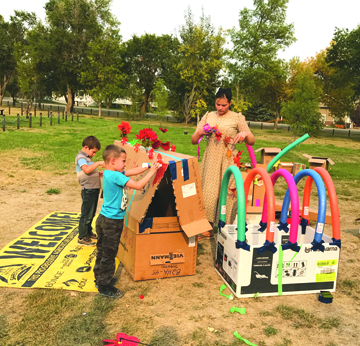 Photo submitted by Terri-Lynn Arnal
By Justin Seward
Commentator/Courier
The Forty Mile Early Childhood Coalition is a group of parents, grandparents, caregivers and community agencies who all contribute the focus of the program to promoting awareness and understanding of early childhood development.
"Our focus is for all children to establish the foundations of health and well being in the early years (ages 0-6) with the collaborative support of parents, families, caregivers and their communities," said Terri-Lynn Arnal, Forty Mile Early Childhood development coordinator.
With the County of Forty Mile being such a vast area, it can be a struggle to keep youth coming. This is where programming strategies become important in having new members come through the door.
"Geography is one of our greatest challenges," said Arnal.
"We try to build on the programs that are already successfully running in the communities. We can identify areas of need by connecting with parents, and agencies and try to support them as best as possible with resources we have."
Activities or play experiences are provided at special events, trade shows and within programs that are already ongoing in local play groups, swimming pools and arenas, as well as story time at local libraries.
"We make attempts to ensure that what activity we host in one community is also held in others," said Arnal.
"We recognize that it is difficult for families to always travel to attend events. Thus we try and keep them most central with one in Bow Island and one in Foremost."
As for 2018, the coalition hopes to offer a brain development based work shop as a child's brain goes through much of its development in the early years.
"We feel the more information and resources we can offer to those interacting with young children the more positive outcomes we will see," she said.
Additionally the coalition has developed an inter-generational program where the children meet with and do activities with senior residents of the community just prior to Christmas where their first session was a the Pleasant View Lodge.
"This program was widely accepted and enjoyed by both children and residents," said Arnal.
"The program provides an opportunity for seniors and children to interact through play, crafts and game, thus creating a more inclusive community."
Other programs include the free Sunday skates in Bow Island which has given families the opportunity to enjoy an event which help provide social interactions and physical development. Also in partnership with the McMann Parent Link from Medicine Hat and the Forty Mile Regional FCSS, a Triple P Parenting full day work shop is held at no cost for the parents.
More information on the coalition can be found by calling Arnal at (403) 581-7084 or through email 40mlecdcoalition@gmail.com.