Small town policing a community effort
Posted on January 23, 2018 by 40 Mile Commentator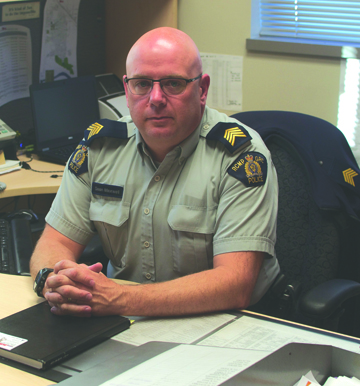 By Justin Seward
Commentator/Courier
Redcliff RCMP's is a police service for the town and Cypress County and rely on local partnerships to help with crime watch.
When dealing with issues in Redcliff, it is about the officers getting to know the people including employees of the town, volunteers and the schools.
Local RCMP assistance includes Citizens on Patrol (COP), Victim Services Unit and South Eastern Alberta Crime Watch for the county.
"There's been a lot of times when that good partnership certainly assists us," said Redcliff RCMP Staff Sgt. Sean Maxwell.
" But outside of that, going to the schools, making sure there is patrols throughout town and making sure that traffic is going well and trying to get to the calls in a timely manner."
For small town policing, the core is when you stop someone today and give them a speeding ticket and then maybe next week they're your star witness, he said.
However, Maxwell knows the police can't be friends with everybody and the kind of mood those people are in that day an officer pulls them over should be taken in to consideration when providing fairness at the time of the violation and with other tickets.
"Any small town is a relatively closed knit community and it's gaining the public's trust," said Maxwell.
"It's how you do that in any place (and) spending time with people. If you're never seen shopping, visiting or stopping by and just having those conversations, nobody gets to know you."
The difference Maxwell notices from his most recent posting in the bigger centre of Fort McMurray to coming to Redcliff is the generational families who reside in the area and have deep roots in the community which has to be respected.
"A larger centre maybe has a transient population," he said.
"They're less interested in the community. They'd be less likely to volunteer on a local board or get involved with Scouts. Maybe they work in that area but the family lives elsewhere."
The Redcliff RCMP is running well in his view with a really diverse crew of new guys and experienced officers, who are being provided with various training opportunities in the near future with interviewing and assisting with different types of investigations.
Additionally, the town and RCMP are working with the town to put more community events on with local kids.