Recycling critics voice concerns at Redcliff council
Posted on January 30, 2018 by 40 Mile Commentator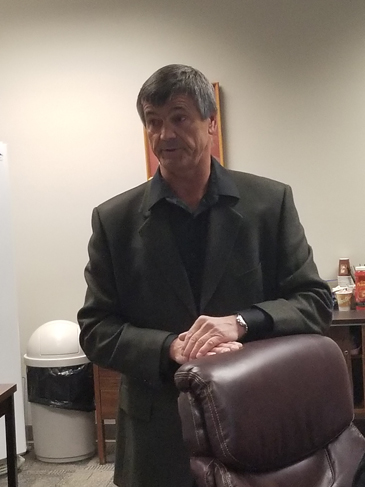 File photo Redcliff Mayor Dwight Kilpatrick
My Jeremy Appel
Commentator/ Courier
Redcliff's council chamber was packed at its Jan. 22 meeting with more than 30 members of the public on hand to express discontent with a perceived lack of consultation for plans to introduce biweekly curbside recycling.
Southern Alberta municipalities recently implementing curbside recycling include Medicine Hat, Lethbridge, Taber and Coaldale.
The Town of Redcliff plans to introduce separate garbage and recycling pickup in the near future, but council cannot divulge many details of the arrangement since it's currently undergoing negotiations with Can Pak Environmental.
A petition opposing the changes was circulated among the meeting's attendees and is making its way through the public.
Mayor Dwight Kilpatrick, who sat on council for more than two decades prior to his election on Oct. 16, likened the controversy to when the town introduced its garbage collection system in his early days on council.
"Because I've been here so damn long, I also remember when we brought in that system and there were more people in this room back then opposed to that system than there are today that want to save it," he said. "Funny how things like that go around."
Although none of the attendees made a formal request to speak before council, which must be made seven working days in advance of a meeting, Kilpatrick offered members of the audience the opportunity to voice concerns.
A formal delegation is only permitted to speak before council twice a year on a particular issue, according to the town's procedural bylaw.
"We want to know if the deal has already been signed and a decision made that's irrevocable on this garbage bin issue," said resident and audience member Joy Harper. "Are you open to a referendum by the people?"
Kilpatrick responded that council passed a motion at its Dec. 11 meeting to enter negotiations with Can Pak, but that nothing is set in stone.
According to the Dec. 11 meeting minutes, a motion was put forward by Coun. Cathy Crozier to begin negotiations with Can Pak for weekly garbage and biweekly recycling pickup, while council approved by split vote the purchase of 4,500 collection bins.
The minutes do not indicate who voted against the motion.
"The formalized contract has not been brought back to council," Kilpatrick said. "We are in a grey area right now where administration has been directed to do their duty, and we're waiting on the end results, which would be more specifics on the contract.
"Is it a fait accompli? No, because the contract is not signed and it's not finalized."
Tanya Keeler, another dissatisfied resident, accused the mayor and council of "being sneaky," asking why they won't give community members a cost estimate.
"I'm not going to start throwing numbers out there in the middle of negotiations," said Kilpatrick. "When the numbers are clear and in writing, everybody will know them."
Prior to its decision to introduce curbside recycling, the town conducted an online survey, sent notices with residents' utility bills, as well as advertised in the Courier.