Rural voice needs to be heard
Posted on January 30, 2018 by 40 Mile Commentator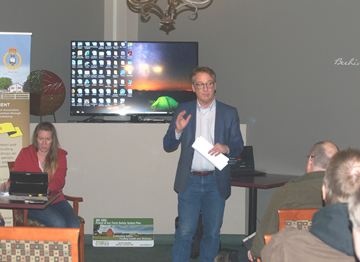 File photo
Cypress-Medicine Hat MLA Drew Barnes spoke in front of a full house at Safety Buzz Campus in Dunmore about rural crime at the Southeast Alberta Rural Crime Watch Association meeting on Jan. 23.
Barnes began his conversation by saying that the UCP had brought in 200 rural Albertans to the legislature at the end of November who were concerned about the amount of rural crime in their communities, municipalities, towns and villages.
This is the day where the UCP had called an emergency debate where problems, causes and solutions could be discussed and were turned down by the NDP government.
"I'm hearing the rural crime is rampant because of the slow down in the economy (and) the drug trade, particularly methanol ," said Barnes.
"I am an example of a small town mayor who told me his post office and ATB branch were broken in to three times in seven days by the same people with knives and guns (and) given four appearances in our court system before the judges gave them jail time. When I see a small town mayor two or three days ago tweet out ' in our small town, we are not feeling safe any more, please help us,' you know what a problem this is.'"
He said in addition to the NDP government not letting the UCP have time in legislature to outline the problem and bring experts to discuss solutions and with three rural Alberta seats being taken out of the caucus come next year's provincial election, that it will be more difficult for a rural voice to be heard.
A urban crown prosecutor has 600 files while the average crown prosecutor in rural Alberta has around 2,100 files, how does that lead to justice and timely protection of our community, said Barnes.
"Hard working police officers will take a day off and go to court and I've heard 30 per cent of the time, the prosecutor or the judge or the defendants lawyer will ask that the plea to be reserved," said Barnes.
"Our tax dollars have been tied up without effective use. Something simple so the judge has his reasons in writing for why he let that court be delayed yet again and may prevent that from happening."
The association's president, Shane Hok, said it was important for members to hear a provincial oppositions stance on rural crime.
"I think the NDP government is ignoring it," said Hok.
" That's what made us bring Drew in because last meeting, some people were asking 'our government isn't doing nothing.' I thought well Drew is very accessible and decided to come."
Southeast Alberta Crime Watch Association will hold their next meeting on April 10 with a time and place yet to be determined.