County of Forty Mile firefighters take grasslands course
Posted on February 6, 2018 by 40 Mile Commentator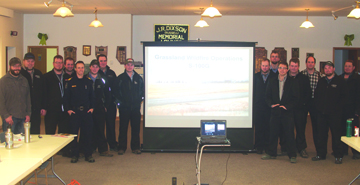 By Justin Seward
Commentator/Courier
The County of Forty Mile Fire Department's members and local farmers spent the morning at the Foremost Legion gaining knowledge on how to tackle grassland fires on Jan. 30.
The Grasslands Wildfire Operations S-100G is designed for local firefighters and community volunteers who assist with wild land fires in the area and discusses safety and wildfire operations.
County fire chief Dustin McGarry said the firefighters learned the effects wildfire behaviour have through temperature, precipitation, relative humidity and wind, while he had the opportunity to discuss how he calculates daily indicies to determine when a fire ban should occur.
"We're brainstorming with the locals and talking about our local equipment that we have on fires and how we can use it effectively," said McGarry.
"And also how to be safe, (how to) fight a fire from the black. That means burnt fuel.
"You always want to have one tire in the black, so you can step over in to the black because that's your safety zone. In a vehicle and on foot there's always things that can go wrong."
There were firefighters in the room who knew how to tackle grassfires but there were reminders we discussed with another fire season on the horizon.
Jason Love had previous experience on wildland fire crews and one year on a volunteer department in Vulcan and for him the content was more of a review of grassfire protocols.
"I didn't know there were accessible radio channels that the province had set up," said Love.
"That's a good thing for a lot of farmers in the area to know on the rural aspect of it."
"Once the snow is gone here, we will have 100 per cent cured grass and we have wind," he said.
Jason Waldner of the county's King's Lake Fire Department said he had knowledge of grassland wild fires prior to coming in to the course, but learned how much more dangerous a grassfire can be depending on the wind and weather conditions, and to have a continuous outlook on conditions.