RCMP investigating trailer theft, B&Es in county
Posted on February 6, 2018 by 40 Mile Commentator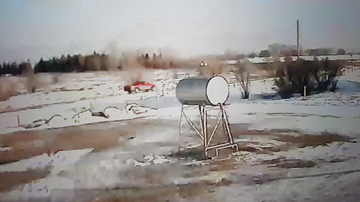 Photo submitted by the Redcliff RCMP Police released a surveillance photo of a suspect vehicle from one of the rural break-ins that have occurred in Cypress County over the past two weeks.
By Jeremy Appel
Commentator/Courier
The Redcliff RCMP responded to a trailer theft and separate break-and-enter on Jan. 29, about week after investigating two other break-ins in Cypress County.
Police say the trailer in question is a white, enclosed utility trailer, while the Jan. 29 break-and-enter involved the theft of various tools from a house under construction.
Unlike last week's break-ins, the RCMP revealed the approximate location of where the incidents occurred in the county, with one north and the other south of Highway 1.
Redcliff RCMP S-Sgt. Sean Maxwell says they declined to disclose any location details of last week's break-and-enters because the victims were so distraught.
"Not that we don't have people feeling victimized, but that last one we had some people who were feeling really horrible about what happened to them," he said.
"We're still not giving a lot of detail."
Police also released a picture of a suspect vehicle, which Maxwell says could be involved in both this week and last week's break-ins.
"It's simple guess work at this point as to whether or not things are related," said Maxwell.
"We need to start catching some of these guys and then seeing what transpires with the evidence once we see it."
The picture of the red truck was picked up by surveillance footage after one of last week's break-and-enters, he confirmed.
"One of the important things from yesterday is to look at the tire tracks, though I know that a lot of the snow melted overnight," Maxwell said.
"We've got three tires that appear to be one tread and one tire appears to be a completely different tread, so if people are seeing vehicles (like) that, they can certainly call it in."
Those with any additional information can call the Redcliff RCMP at 403-548-2288 or Crime Stoppers at 1-800-222-TIPS.