Bow Island musician appears in Super Bowl ad
Posted on February 13, 2018 by 40 Mile Commentator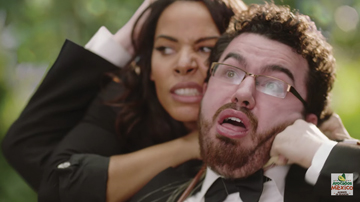 By Justin Seward
Commentator/Courier
Surfing the web and coming across an online ad is all it took for Bow Island's Laurence Schaufele to get on TV.
The professional musician who now resides in Toronto earned a casting call for the Avacados Mexico commercial for the this year's Super Bowl with his string quartet skills in December, and later won a spot on the set with his friend Maxime Despax.
"'Professional string quartets, we're looking for the real deal,' it said," Schaufele said of the ad.
"I got dragged to the audition by a friend and we did quartet together, and I was doing it as a favour for her.
"We did it and it was hilarious. We were put in to a derelict room and told to go crazy on command."
The set was as close to a movie as you can get.
"It was weird because you walk in to a giant quonset," he said of the audition.
"It's tropical weather in there. It's still the performing arts, it's language. Someone like me in my field, we understand that show business. It's a lot more weighted, but you have to perform on que."
The one scene that he and Despax got in had his friend hitting a stuntwoman over the head with a violin, which they found comical because seeing a violin get smashed was the best case scenario for both of them being viola players.
Schaufele was also choked by the stunt person.