Countie Mountie has been busy at local events
Posted on February 13, 2018 by 40 Mile Commentator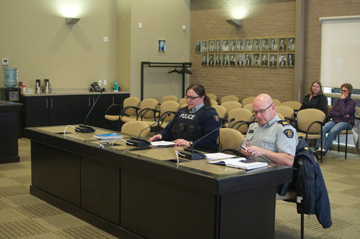 By Justin Seward
Commentator/Courier
Cypress County enhancement officer, Cst. Rebecca Wilkie, gave her first report to Cypress County council at the Feb. 6 regular meeting.
She said she has quite regularly attended sporting events at the Irvine Sports Complex where there is always someone to talk with.
Also while on patrol in the hamlet, she has found the Irvine Coffee Shop on Fridays to be full of bus drivers and local ranchers.
"They have accepted me very well," said Wilkie.
"They feel very comfortable I believe and they talk to me about the concerns in the county and important information. They want me there every day but unfortunately I can't be there everyday. When I do show up, they say 'where have you been?,' but it's only been a week or so that I had not been there."
Stop ins at county businesses Premium Sausage, the Walsh gas station and the Dunmore gas station have brought up questions to her by people.
Her time is also spent at the schools with teaching the DARE program and has a felt welcomed amongst the students.
"The kids don't look at me like 'oh my gosh, the police are here, what going on?,'" she said.
"They're comfortable with me being around."
She prefers to be around the schools when early and later to scan for drivers speeding in the school zones, while also handing out violations.
The Commentator/Courier will have a traffic safety tip section in the first edition of every month.