County council approves Irvine subdivision plans
Posted on February 13, 2018 by 40 Mile Commentator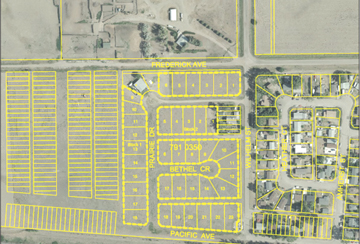 By Justin Seward
Commentator/ Courier
Cypress County council moved to direct administration to prepare a conceptual plan for the development of a 39 lot subdivision in Irvine at the Feb.6 meeting.The hamlet has plans to develop a 39 lot, residential subdivision west of Willhelm Street. Housing structures would include newly constructed dwelling or a new ready to move/dwelling modular home put on a foundation, as well as a detached accessory building.
"The lay out is compatible and similar to the one immediately east in Heather Court," said the county's planning supervisor Jeffrey Dowling.
"Not to say that has to be duplicated but one of the things that made Irvine very attractive was the larger lot sizes. What we've heard so far is that families liked the larger lot sizes because it gives it a little bit of diversity from what's available in the Medicine Hat area."
He added if there is duplexes to be built that there is no subdivision required, however, if there is the situation where half the duplexes are owned by one lot owner and the other half is owned by other land owner then a common subdivision boundary has to be created in the middle of the lot.
The County bought the 39 lots off in the spring of 2017 after denying an extenuation of a financial assistance request from developer who at the time conducted housing market research and thought it was not a good time for development.
This decision came after the developer came and asked the county for further financial assistance towards the development after there was a motion already passed in the fall of 2015 to assist with the costs of infrastructure repairs costs which was determined to be between $500,000 and $750,000 in the summer of the same year.