New look, same foundation for Redcliff Bakery
Posted on February 13, 2018 by 40 Mile Commentator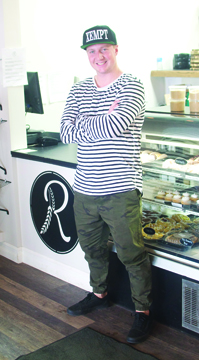 Commentator/Courier Photo by Justin Seward. Joel Graber is the new Redcliff Bakery owner.
By Justin Seward
Commentator/Courier
Joel Graber and his wife Melissa took over the Redcliff Bakery as the new owner in December and has made the local business into a more attractive place to come for a pastry and a cup of coffee without changing the delicious creations menu too much.
The thought of owning the bakery came from stopping in a few years back.
"We first tried things from the Redcliff Bakery a number of years ago and every since we had it, we loved it," said Graber.
"And just like everyone else in the community, the Redcliff Bakery has been around for over 25 years, and everyone whose ever had it, loves it. The Redcliff Bakery has a loved, well-known and a well respected reputation in the city."
Graber has previous business experience beginning at 16 years old with a network marketing company and by the age of 18 he became the youngest top level trainer worldwide in the company before trying a family roofing business, which did not pan out, and later started a construction company. Then when they heard about the bakery, Melissa and him started talking about it with the previous owners and said to themselves if they were going to take on the business, they wanted to be surround with a good group of people.
"We're pretty fortunate to have that team," he said.
"One of our managers has been here for over 20 years, our bakers in the back as well as some of our other managers that we brought on board with over 20 years in the industry, it seemed like a really great fit for us."
The foundation was important to them because everyone knows and loves the bakery and if there was other areas to bring a level of enhancement to, we wanted to do that , said Graber.
"With the renovation, we on the front of the house, we wanted to give it simply a facelift," he said.
"Between painting, flooring, lighting and rearranging some of the flow traffic, we really wanted to enhance right down from an execution standpoint to the flow of traffic coming into people's overall experience. People feel more invited to come sit down for a cup of coffee with their friends and really bring that to the community of Redcliff."
Additionally, adjustments were made to the lunch and dinner with the soup and sandwiches menu. where a red seal chef was brought in to add his years of expertise.
He has learned that food connects people and if you have a place that produces quality products then people will come.