Redcliff RCMP presents quarterly stats to council
Posted on February 20, 2018 by 40 Mile Commentator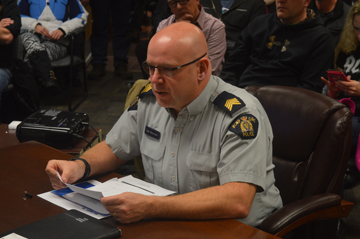 Commentator/Courier file photo Redcliff RCMP Staff Sgt. Sean Maxwell says the UCP's plan to address rural crime is a positive step forward.
By Jeremy Appel
Commentator/Courier
Redcliff RCMP S-Sgt. Sean Maxwell presented the force's statistics for its fourth quarter of 2017 to town council at its Feb. 12 meeting.
The statistics cover October 1 to Dec. 31, 2017.
The detachment had a total of 338, a significant increase from the 264 calls it received between July 1 and Sept. 30.
There were 883 total calls in the entirety of 2017.
The town saw more than a doubling of assaults from the previous quarter, up to 10 incidents from four.
"We are dealing still with domestic violence in town," Maxwell explained.
Total property crimes decreased to 32 incidents from 54 in the previous quarter, which Maxwell says is the result of efforts put in by the force.
"I can't go into specific details on how we're approaching things, but I can tell you that we have a plan," he said.
"We're working both with our policing partners in (the) Medicine Hat Police Service, citizens on patrol, rural crime watch and our own district. We have an analyst.
"What we're looking at is the small number of people who are committing the largest number of crimes."
The Redcliff detachment made seven well-being checks in the fourth quarter, whereas they had made none in the third, which Maxwell attributed to the onset of winter.
"Given the weather, we had some people with concerns," he said.
There were 18 motor vehicle collisions in the fourth quarter, up from 13 in the third.
Maxwell said none of them resulted in fatalities in either quarter.
He used the opportunity to warn against Canada Revenue Agency scams, which he said occurs every few weeks in town.
"Canada Revenue Agency will never accept payment on iTunes or other gift cards," he said.
This specific scam, where the perpetrator claims to be from the CRA and demands payment in iTunes gift cards is done because gift cards aren't traceable.
Through the use of an app, the gift card funds are translated into actual money.
"It's a a great standpoint if you have no morals, ethics or don't care," said Maxwell.
A motion put forward by Coun. Larry Leipert to accept Maxwell's report as information was passed unanimously.