Mental Health Association talks elder abuse at Redcliff Library
Posted on February 27, 2018 by 40 Mile Commentator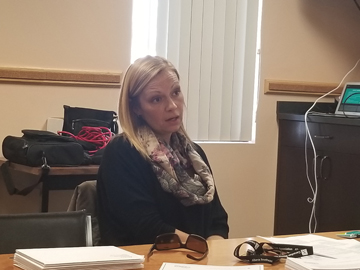 Commentator/Courier photo by Jeremy Appel Branch outreach co-ordinator for the Canadian Mental Health Association Kaillie Wald spoke about elder abuse at the Redcliff Library on Feb. 20.
By Jeremy Appel
Commentator/Courier
The Branch outreach coordinator for the southeast Alberta chapter of the Canadian Mental Health Association gave a talk on elder abuse at the Redcliff Library on Feb. 20.
Kaillie Wald spoke of the different forms of abuse experienced by senior citizens, often at the hands of those who are supposed to care for them as they age.
Wald defined seniors as those above the age of 50, although she deals mainly with those older than 65.
She defined elder abuse broadly as, "a single or repeated act, or lack of appropriate action, occurring within any relationship where there's an expectation of trust.
"It can include a denial of an adult's fundamental rights according to the Charter, and it's not just impolite or rude behaviour."
The particular categories of abuse are emotional, neglect, financial, physical, social, spiritual and sexual.
Wald acknowledged that there's significant overlap between each type.
"They kind of intertwine," said Wald. "There's one primarily you'll see through all of them and that would be the emotional abuse.
"People have feelings, so no matter what there's going to be some element of emotional abuse in all of those."
Anyone above a certain age is susceptible to elder abuse.
"There's no discrimination," she said. "It's any senior regardless of gender, race, ethnicity, income, education, religious background, etc."
As a trained social worker, it's Wald's job to meet with victims of abuse and provide them with encouragement, although the victim doesn't always take her advice.
"A great deal of my time is providing emotional support," she said, adding that dealing with victims of abuse is often challenging because they "don't really go around airing it."
Wald often co-ordinates with other services as necessary, such as the Alzheimer's Society or local food bank.
Those looking for support for those in an abusive situation have a number of resources at their disposal.
They can contact Branch Senior Support at 403-504-1811, ext. 114, Alberta Elder Abuse Awareness Network at 403-529-8368, or the Family Violence Intervention Line at 403-310-1818.