Province announces more money for Hilda wildfire victims
Posted on March 6, 2018 by 40 Mile Commentator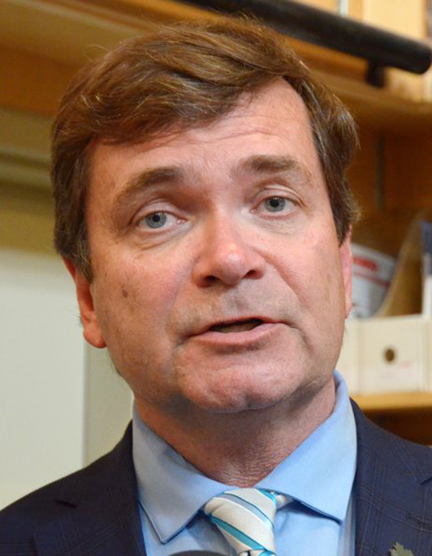 By Jeremy Appel
Commentator/Courier
Alberta's Ministry of Agriculture and Forestry announced on March 5 that it's providing a $200,000 grant to assist victims of October's wildfire in Hilda.
The funds are in addition to the $25,000 per property loan provided by the province in December that's interest-free for two years.
Minister of Agriculture and Forestry Oneil Carlier says the government decided to provide additional funds after consulting with affected farmers and ranchers in Cypress County and the MD of Acadia.
"Fires are never pleasant, obviously, and we're hoping this goes a long way to help alleviate some of that stress," said Carlier.
"We've been hearing from producers, hearing from the municipalities, hearing from community associations that they wanted to have something structured that is similar to what Saskatchewan has done."
Alberta's neighbour to the east matched donations to the Saskatchewan Stock Growers Association up to $100,000 and expanded its Provincial Disaster Assistance Program.
The Saskatchewan Wildlife Federation provided an additional $20,000 donation to the Stock Growers Association.
Carlier encouraged producers in the affected areas to make use of the interest-free loans and April 2017 on-farm water program grant, both of which will also help them rebuild, but didn't rule out the possibility of more funds in the future.
"We're continuing monitoring, looking at the uptake of what's done (and) continue working with producers," Carlier said.
"We're going to monitor the situation as we go forward (to) determine what and if any steps might be necessary."
The minister, who's also responsible for fire prevention, warned the public to be extra careful to ensure they don't accidentally start a fire, especially with spring around the corner.
Wildfire season in Alberta officially began on March 1.
"Many wildfires are caused, I'm afraid, by human carelessness, or burning a bush pile or garbage pile when it's windy or dry," said Carlier.
"There's a lot of snow on the ground right now, but as we continue to spring and things start to dry, people (should) take a second look at what they're doing around their fires.
"Don't be that person who causes that wildfire."
The Hilda wildfires burned about 35,000 hectares in the county and MD, damaging pastures, fields, fences, buildings, killing 200 herds of livestock and destroying one home.
The total estimated cost of the uninsured damage is $29,147,147, according to the Hilda Fire Recovery Committee.