Cypress County hosts Irvine Area Structure Plan open house
Posted on March 13, 2018 by 40 Mile Commentator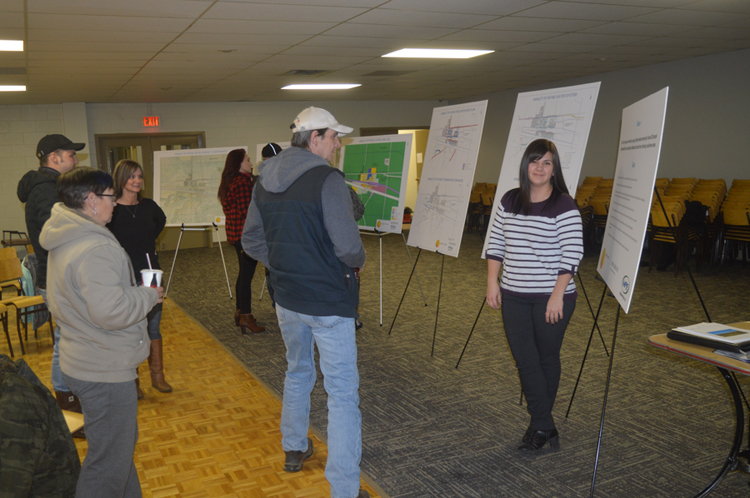 Commentator/Courier photo by Jeremy Appel Cypress County assistant planner Kaylene Simpson helped put together the Irvine Area Structure Plan, which was presented to residents on March 8 at the hamlet's sports complex.
By Jeremy Appel
Commentator/Courier
Cypress County held a structure plan open house for the Hamlet of Irvine on March 8, similar to the one it hosted for Seven Persons in December.
The Irvine project has been in the works since August 2017.
According to the Municipal Government Act, council can adopt an area structure plan for the purposes of "subsequent subdivision and development of an area of land."
The plan must describe the sequence of the development, the land uses proposed for the area, population density and the general location of major transportation routes and public utilities, as well as any other details council deems relevant.
"It's a result of the council's strategic planning where they're looking to promote certain hamlets for development in the future," said Kaylene Simpson, the county's assistant planner.
Irvine and Seven Persons were chosen by council because of their proximity to Medicine Hat.
"More than likely, we're going to see further development in the hamlets closer to the city," Simpson said.
The county recently purchased a 39-lot subdivision west of Irvine from Landstone Developments, which it wants to develop in the near future.
The planners are also looking at filling some of the vacant lots in the hamlet.
"We're also going to be addressing water (and) storm issues," Simpson added.
With 307 people, Irvine is the third-largest hamlet in Cypress County, following Dunmore with 1,097 people and Desert Blume, with a population of 586.
Cypress County has a population of 7,662 people, according to the 2016 census, a 6.2 per cent increase from the 2011 census.
This was greater than Canada's 5 per cent national growth rate in the same period, but less than Alberta's 11.6 per cent growth.
The county worked with Greg Birch of Birch Consulting and Patrick Boyd from MPE Engineering to help put the plan together.
County council has a public hearing for the structure plan scheduled for May 1 at the county office in Dunmore.