Rural crime watch meeting in Bow Island
Posted on March 13, 2018 by 40 Mile Commentator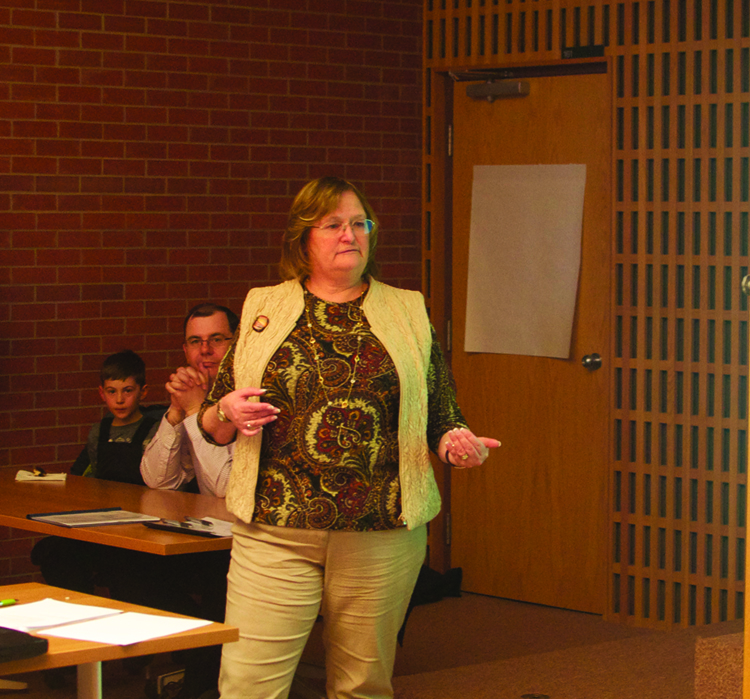 Rosemary Lindsay, vice president of the Alberta Provincial Rural Crime Watch Association, speaks to a packed house of prospecticve rural crime watch members at the Bow Island Provincial Building on March 8.
By Justin Seward
Commentator/Courier
Rosemary Lindsay, vice-president of the Alberta Provincial Rural Crime Watch Association spoke to a packed room of more than 30 local citizens about the benefit of having a rural crime watch association in the Forty Mile-Bow Island area on March 8 at the town's Provincial Building.
The province's rural crime watch mandate is to promote crime prevention through awareness, education and encouraging reporting of suspicious activity when observed.
"Anytime the community is wanting to come together to take positive action and to be involved with safety and crime prevention in their community is huge," said Lindsay.
"I'm being contacted by the RCMP and having the initiations and conversations that they have had with council just shows great initiative and great potential in the area. They have the backing of the RCMP, council and judging by the turnout tonight, they've got a strong public interest. I think there is a great chance that this association is going to go ahead and thrive quite well."
Her focus for the local people is for them to be proactive and get involved with crime prevention, while extending their ability to be effective for the community to come together in a rural area.
"It's always encouraging to see groups come together to form rural crime watch associations," she said.
"We have seen that the formation of rural crime watch associations across the province has increased as people understand they can do things for themselves and there are things that can happen."
The message to the Forty Mile group is to keep the momentum going and talk to people about what is happening in their communities.
County of Forty Mile Reeve Steve Wikkerink said since the rural crime watch association organizers have been doing these initiatives for many years, it's a good opportunity to learn from their experience and have good representation from different levels of government.
"Probably what spurred this on quite a bit was (us) really hearing a lot stuff from the MD of Taber, Cypress County and acreages closer to the city about rural crime," said Wikkerink.
"Rural crime is starting to move out further and further from the cities. Now we're starting to hear about it. I think we're a little bit ahead of the real crime spree. If we can get an organization like this going, pull us together as neighbours and friends, why not do it now before we start getting a big mess."
He added the county has heard a little bit more this winter on rural crimes with contractors' equipment being left out in the country to sit over night where big projects are being worked on and fuel is being stolen, while farm yards are scoured during the day when nobody is home.
MP Glen Motz and his federal Alberta Conservative colleagues have been sounding the alarm for a while on the incidents of rural crime that have increased around their riding. It began in the north a long time before it trickled its way to the south.
"Meth was a huge issue in the north country long before it came to southern Alberta," said Motz.
"As we have a greater proliferation of drugs in the opioid crisis right now, there's more individuals who are looking to obtain property to convert into cash, to support their habit. Some of them are just criminals. They steal anything that isn't locked down. But because of the proximity of people in a municipality, they pray on farms and acreages who may or may not be home but the likelihood of getting caught is less."
He has heard from property owners asking how they can protect themselves, their property and RCMP response time, as well as taking issue with criminal justice system to hold criminals to accountable.
"We're gathering recommendations from our stakeholders and we've got a couple hundred of them," he said.
"We'll have a look at those from a Conservative MP perspective and we'll put something forward. What that will be at the end of the day, we're not quite sure yet. We're just digesting the information now.It's speaks to the concern that rural Albertans have and the people of Forty Mile have with looking after themselves, their property and that of their neighbours."
Twenty-four of the more than 30 attendees signed up that evening.
The Etzikom meeting was canceled due to the weather, and will be scheduled at a later date and advertised in the Commentator.