Flyers alumnus have a blast at first annual hockey tourney
Posted on March 20, 2018 by 40 Mile Commentator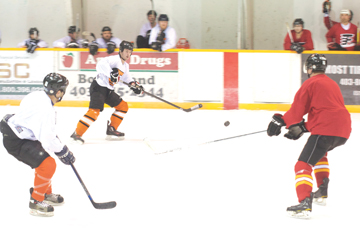 By Justin Seward
Commentator/Courier
The first annual Foremost Flyers Minor Hockey alumni tournament saw eight teams of 14 players, ages 15 to 58, reminisce about growing up playing minor hockey together in the village's civic centre last weekend.
"It's nice to see a lot of faces come back to town and support a good cause like we got going for the Foremost splash park and all the proceeds going to towards it," said Steven Hougen, a Flyers alumnus.
"We all talk about it. It was one of the best times of all our lives playing for the Flyers and representing our community going across the province and winning a lot of games and making everybody proud and we can reminisce about the good ol' days when we were doing that."
He was a part of Team Yellow for the weekend and the best part was getting their first win, but they had a bit of work ahead of them to get the second win against Team Green, who won 5-0 on Saturday afternoon.
Spencer Burton grew up in Foremost and played hockey in town before moving to Medicine Hat in Grade 9 for the opportunity the sport presented him.
"It's kind of surreal," he said.
"It's nice just to be here will all the guys I grew up with. It was everything, live and breathe hockey."
Foremost Mayor Ken Kultgen was one of the older players out there at age 58 and said everybody was having fun and the tournament brought a lot of people back to see the area and gain back their relationships they had
"I think it's something that will probably become an event that happens here quite regularly," said Kultgen.
"I just wanted to come out and take part and skate with some of the guys we use to play hockey with and some of the young guys. It's been fun."
He added the arena has been a mainstay for socializing and meeting for years as people have spent most of their winters at the curling rink or the arena.
All the proceeds from the tournament went to the building of the new splash park.