Redcliff police arrest suspects in Saskatchewan robbery, find drugs, weapon and cash
Posted on March 28, 2018 by 40 Mile Commentator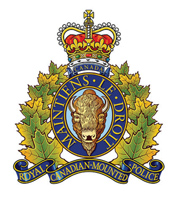 By Jeremy Appel
Commentator/Courier
Redcliff RCMP's Integrated Traffic Unit arrested two Saskatchewan robbery suspects from Manitoba in Cypress County, seizing a large amount of cash and an unspecified quantity of methamphetamine and cocaine, as well as a weapon.
While patrolling Highway 1 near Range Road 101 on March 14, members of the ITU observed a Saskatchewan-plated vehicle parked off the highway with two occupants inside.
Due to the recent increase in rural property crimes in the county, the officers looked up the plate and discovered that the vehicle was associated with a robbery in Swift Current from that morning.
After detaining the two occupants, police determined that they were both wanted for breaching conditions of a previous release from Manitoba.
Upon their arrest, the officers searched the vehicle, finding cash from the Swift Current robbery and the drugs.
Robyn Boersma and Jordan Harkness-Brown of Carberry, Man., each face charges of possession of property obtained by crime over $5,000, possession of property obtained by crime under $5,000 and possession of a weapon for a dangerous purpose.
Boersma was charged with Possession of a Schedule I substance for the cocaine and Harkness-Brown was charged with Possession of a Schedule I substance for the methamphetamine.
Boersma also faces a charge each of failure to comply with recognizance and failure to comply with a probation order, while Harkness-Brown faces two charges of failure to comply with an undertaking.
Both men are currently being held at Medicine Hat Remand Centre, waiting their return to Saskatchewan to face several charges in relation to the theft over $5,000 and numerous breaches.
Any member of the public with information regarding this or any other crime should call Redcliff RCMP at (403)548-2288 or CrimeStoppers at 1-800-222-TIPS.