Senator Gershaw students get leadership, water education in Canmore
Posted on March 28, 2018 by 40 Mile Commentator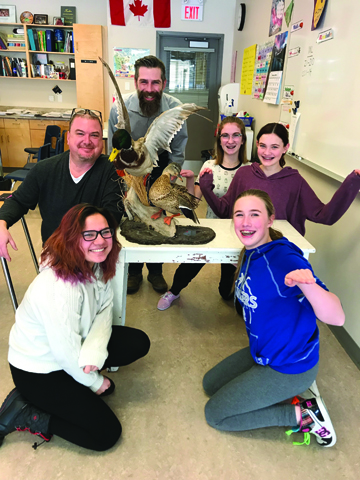 Clockwise: Senator Gershaw School's team of Camille Kolen, Stan Tiffen, Cory Schiebelbein, Abby Riddell, Baioby Pearson and McKenna Schivelvein at the Navig8 Inside Education conference in Canmore.
By Justin Seward
Commentator/Courier
Four Senator Gershaw students and two teachers made a trip to Canmore from March 8 to 11 for Inside Education's fourth Navig8:Youth Water and Environmental Leadership Summit.
The three-day event was an opportunity for students and teachers to explore science, innovations and careers related to water and environmental stewardship in Alberta.
Camille Kolen, one of the Grade 9 students who attended the conference, said their teachers in science class presented the water reclamation project, which included aquaponics, a combination of the aquaculture of growing fish and other aquatic animals, and hyrdroponics where plants grow without soil.
"What we learned at the conference ties into what we learn in Grade 9 science," said Kolen.
"We were going in head first, we didn't know what to expect. We learned a lot about water and environmental issues, and usage of water around the world."
Her favourite aspect of the summit was the DNA section where organisms viruses, bacteria and water were tested on site because it did not have to go to a lab where it would take weeks for the results.
"A lot of water usage is in irrigation," said Kolen, on a rural water use.
"And since this a very rural town with a lot of farming involved, it's really cool to know that a lot of water we use goes to agriculture."It was a really good experience meeting new people and learning more about science for Baioby Pearson.
"Hearing all of the speakers really inspired me to learn more about water and why we use it so much," she said.
"We're kind of losing water in Cape Town.They're not having so much water. I can bring it back to our class and teach them about what we learned and tell them how we're going to build our project."
McKenna Schivelvein met so many people with knowledge on topics that were being talked about throughout the weekend,which she did now know about prior to the summit.
"It was a very valuable opportunity to get to have. It was very overwhelming once we got there," said Schivelvein.
"There was so many people but everyone was so kind. We take water for granted and we really need to respect it and manage our usage of it so that it doesn't become a problem for us in the future."
Abby Riddell was the fourth member of the student team but was unavailable for comment due to other commitments.
As soon as teacher Cory Schiebelbein had received the email from Inside Education about the conference, he thought it would fit in with the school's reclamation project for the naturalization of the school grounds for a greenhouse.
"It was a great learning professional development for teachers, almost like a teachers convention," he said.
"Those students are now going to be our leaders when it comes to planning our aquaponics and hydroponic systems in our greenhouse. We chose Grade 9s because it fit into Grade 9 science but also because we have them for three more years after this. So they can be the ones to keep this going."
Navig8 2018 was an environmental and leadership conference, but for teacher Stan Tiffin it was more about seeing the girls gain more leadership skills to promote leadership in the classroom which is a valuable asset to have.
"We're looking at these girls as leaders as they go up through high school with our greenhouse project and our water reclamation project," said Tiffin.
"A great thing to see was the different projects that were occurring around the province of what schools are doing. It was pretty amazing about what students are doing. It definitely lead a little inspiration around my teaching."
Special guests speakers and panelists included Canadian rocket scientists Natalie Panek, who has been called one of Canada's Greatest Explorers" by Canadian Geographic. There were also experts from the Government of Alberta, the University of Lethbridge, the Alberta Geological Survey, City of Calgary and a panel of youth leaders that included representation from the Siksika First Nation.