Vetter books her trip to Canadian Juniors
Posted on March 28, 2018 by 40 Mile Commentator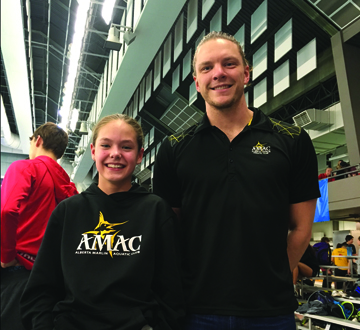 Submitted by Jackie Schlenker
Thirteen-year-old Redcliff swimmer, Delrae Vetter, from the Alberta Marlin Aquatic Club, went to Edmonton on the March 16 weekend with her teammates to compete in the 2018 Swim Alberta Provincial Championships. Vetter had just qualified for Canadian Westerns in Victoria at our last meet in Lethbridge but now has qualified for the Canadian Junior Championships in Winnipeg in July.
The Canadian Junior Championships is one of the top meets in Canada for age group swimmers. There are approximately 700-800 swimmers from across Canada and it hosts the best of the best. She got her time in the grueling 800m Freestyle, which in long course, is 16 laps of a 50-metre pool length. She cut four seconds off of her previous best time to qualify and it will be her very first trip to Nationals. She is coached by AMAC alumni Jordan Harper.
He made it to Olympic trials in 2012 but failed to qualify for the London Olympics. Olympic Trials for the Summer Olympics in Tokyo, will be held in April 2020 and wouldn't be surprised if Vetter manages to qualify for those as well.